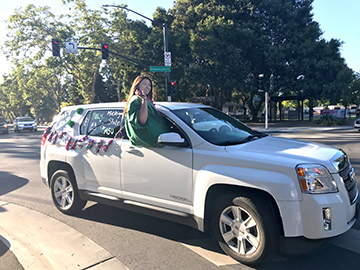 BY KYLE MARTIN
Daily Post Staff Writer
High school seniors will get a "good solid graduation" this year, Superintendent Don Austin said, after the district last year replaced the traditional ceremony for drive-by graduation because of the pandemic.
Austin told the Post on Friday (April 16) that the district will have in-person graduations for both Palo Alto and Gunn high schools, which is different from last year's graduation that was just a car parade where people were encouraged to "shout-out" seniors from their lawns as graduates drove by.
Austin said the district is still figuring out the logistics of this year's graduations, such as how many will be allowed to attend and when it will be, but Austin added each school will likely have graduations at each of their own football stadiums.
This follows over a year of shutdowns, online learning and a slow return to campuses, which Austin called a "year of a lot of loss."
"I think I'm not alone in saying that I can't wait for this year to be over," Austin said. "The amount of changes that everyone in the school system has had to deal with is exhausting."
But the superintendent added that there were some upsides to the year, including the district's middle and high schools going back to on-campus learning four days a week. For some of the campuses, this will begin Monday (April 19), others will go back to four days a week later this month.
"I think the students have handled it the best out of all stakeholders. For the most part they've been flexible and they've managed the change the best," Austin said. "I think we should all be proud of the students."
Palo Alto elementary students have been back in classrooms at least two days per week since October.
First grade students were the first to return to a full-time schedule, beginning with Addison Elementary School on Feb. 16. Fifth graders returned to full-time Monday and third and fourth graders are expected back this upcoming Monday.
Austin said he's not sure how many students are expected to return to four-day weeks with middle and high schoolers next week, but he said "we're down to just a little over a month of school left. We think there will probably be some high points."