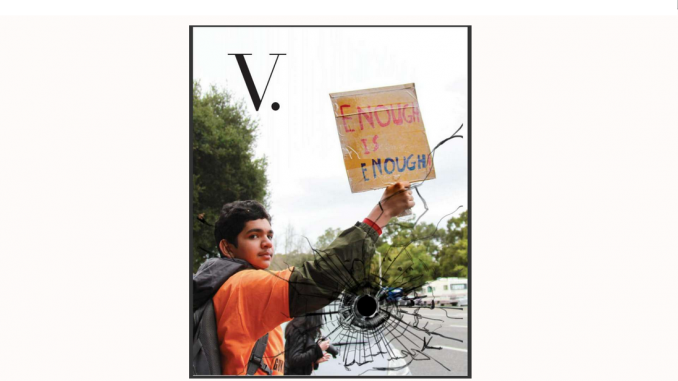 By the Daily Post staff
The Palo Alto High School student magazine Verde is drawing national attention for the unique way it chose to call attention to gun violence in America.
The April 7 edition of the magazine includes a "bullet hole" — an actual hole — that pierces the cover and every page of the issue. The magazine became a hot topic Monday on Reddit and then the national media jumped on the story.
"It's our job to somehow extend the dialogue of how students feel and act towards everything that is happening," co-editor Emma Cockerell told CNN. "We also want to call for a reform that needs to happen."
The idea for the hole was a response to the Feb. 14 shooting at a high school in Florida where 17 people died.
But the topic of school violence came home to Paly students on the afternoon of March 29 when the campus went on lockdown because a shooting threat was called into police. It turned out to be a hoax, but the experience was frightening to the students.
"When we talk about the lockdown and the fear of that moment, everything was just very real," Cockerell told CNN. "Running to throw our desks towards the door, students hiding and really not knowing what's going on or what was going to happen, thinking 'this is it?,' it's just an experience we thought that needed to be documented as it was happening."
The student editors told NBC that a student artist designed the bullet fracture and then a drill press was used after the magazines were printed to pierce through the paper.
"No one is safe from bullets and so, in our magazine, no words are safe from the bullet," Cockerell was quoted by NBC as saying.