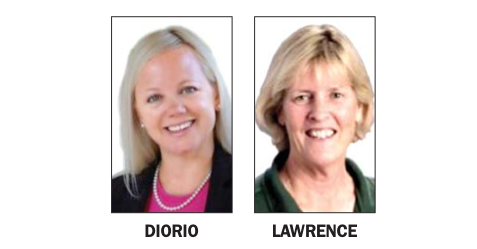 BY ALLISON LEVITSKY
Daily Post Staff Writer
The principals of both of Palo Alto's public high schools were under fire yesterday as both were named among the administrators who dropped the ball on investigating and documenting a student's report of an on-campus sexual assault last year.
But hordes of teachers and several students spoke up for Palo Alto High School principal Kim Diorio at the tense school board meeting, fearing that she would be among those punished after a law firm's investigation condemned administrators at the school and district levels.
Gunn High School principal Kathie Laurence was an assistant principal at Paly at the time of the assault.
Speaking in an infuriated tone, Palo Alto resident Lynn Brown criticized the "witch hunt" that she said follows scandals in the district. "I think the reason is you, and you," Brown said, pointing aggressively at individual board members. "I think this board goes off the rails every time there's a mistake. It's your failure… You failed to lead and solve problems in a professional, reasonable way."
Jennifer Gardiner, a district parent and employee of 16 years, said that she had worked directly with seven principals, but that Diorio was the best administrator she had worked with.
"I'm struggling deeply with how I feel about unfair attacks on her," Gardiner said. "We can always learn more."
Investigation botched
Lawyers with the firm Cozen O'Connor, Gina Maisto Smith and Leslie Gomez, found that administrators including Superintendent Max McGee, former Assistant Superintendent for School Support Services Holly Wade, who left the district in June, Diorio and assistant principals Laurence, Jerry Berkson, Victoria Kim and Adam Paulson had botched the investigation and documentation of the sex assault complaint.
No one at the district was trained on Title IX of the Education Amendments Act of 1972 or complaint procedures until May, despite that the district has been investigated by the Office for Civil Rights for its Title IX practices multiple times in the last four years.
On the Friday afternoon in October when the 14-year-old student reported her assault in a Paly bathroom by a 17-year-old baseball player, she went first to Clare Gleeson, a teacher's aide in the school's AVID college readiness program.
Much of the immediate response to the report was "textbook" and demonstrated a clear concern for student welfare, Gomez said.
With the student's permission, Gleeson took her to the school's wellness center, where therapist Jonathan Frecceri thoroughly documented the report in a timely manner, Gomez said.
Federally-required procedures ignored
But after the report was brought to the attention of the assistant principals, Wade and McGee, investigative and documentary procedures required by federal law and board policy fell by the wayside.
Wade did not inform the girl, her assailant or either set of parents of their procedural options under the Uniform Complaint Procedure. She did not create a centralized file of documentation for the case and she did not properly interview either student, conducting the brief conversations either in the presence of police or over the phone, with the girl's mother on the line.
Avoiding a paper trail
A failure to keep proper documentation throughout the process reflected a tendency in the district not to commit sensitive information to record, which some employees said they were instructed to do in order to avoid embarrassment in the press or litigation.
The district also over-relied on the concurrent police investigation, which has different aims and procedures from a Title IX investigation, Smith said. The district investigation also failed to abide by the standard of the preponderance of evidence, as is required by Title IX.
When the girl later complained that she was being harassed about the assault, creating what would be considered a hostile educational environment under Title IX, Laurence failed to connect the dots or raise the issue with her colleagues.
In early February, administrators received "additional information … from an external authority directing the school to take certain actions," Gomez said, seeming to imply the school's inaction upon being notified by the court that the boy had been convicted of sexual assault.
Diorio asked several times whether the school should offer a Uniform Complaint Procedure to the students involved, but Wade said no, Smith said. When Diorio asked an attorney whether the district should have offered the complaint procedure, she was also told it was unnecessary.
Board trustee Todd Collins said that he had already suggested to McGee that the district take legal action against that attorney for the bad advice.
"We have a staff that's made up of good people. I don't think there's any doubt about that," he said. "We have a culture that allows these good people to not do what they need to do."
Trustee Melissa Baten Caswell said she hoped the district would focus on cleaning up its own operations before embroiling itself in a lawsuit.
"We don't want somebody supposedly protecting children to be repeating wrong advice," Baten Caswell said. "On the other hand, I don't want this to be a big effort of ours."
Board president Terry Godfrey, on the edge of tears, said that senior-year living skills class was too late to talk about sexual consent.
"If this was easy, we could just tell kids 'Don't bully each other' and 'don't sexually harass each other' and we'd be done," she said.
McGee, whose firing has been broached in part as a result of the investigation, commended the district for its progress in addressing the problems, including the creation of an online anonymous complaint form and a tracking system for administrators to log sexual harassment complaints.
McGee asked district employees, himself included, to take personal responsibility for maintaining strict compliance with Title IX.
"Clearly we have serious matters to discuss," McGee said.
The Cozen O'Connor report can be viewed at the following link: goo.gl/9CDmzK.