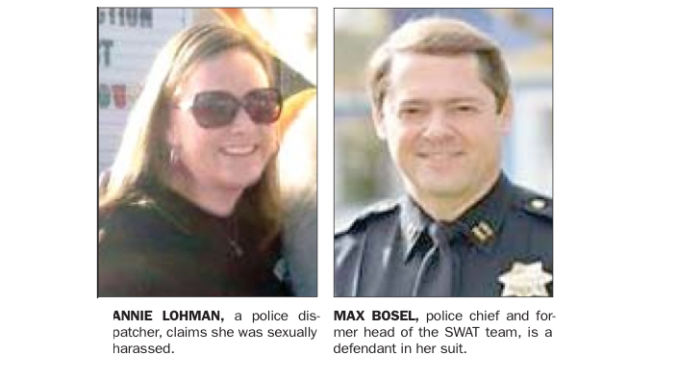 BY ALLISON LEVITSKY
Daily Post Staff Writer
Strip poker, strip clubs and lewd hot tub behavior paint a lurid picture of the Mountain View Police Department's SWAT team after-hours.
The city responded to police dispatcher Annie Lohman's 2016 sexual harassment suit against now-police Chief Max Bosel with claims that Lohman had willingly engaged in lewd conduct and conversation at parties with her co-workers on the SWAT team, one of whom she has since married.
Karen Kramer, an investigator who has worked for the city since 1992, interviewed the SWAT members accused of harassment and wrote two reports dated July 17, 2015 and Dec. 21, 2015 that detail the team's behavior.
SWAT officers interviewed by Kramer claimed that Lohman had "regularly engaged in lewd behavior" at social events with her co-workers, including buying a lap dance for a co-worker and fondling his privates during the dance, sitting on her male colleagues' laps in a hot tub despite being asked not to and having sex with a SWAT member while his roommate was in the room at an out-of-town SWAT training.
Harrassment, retaliation claimed
Lohman filed the suit on March 7, 2016, asserting retaliation, sexual harassment, gender discrimination, disability discrimination, unequal pay on the basis of gender and failure to prevent harassment, discrimination and retaliation.
Bosel is accused of sexual harassment in the suit, which also names 25 John Does. A "John Doe" in a lawsuit is a potential defendant whose name isn't known to the plaintiff's counsel.
Lohman's complaint alleges that between 2007 and 2010, she was subjected to "sexually explicit banter, lewd jokes, nudity and simulated sex acts." Bosel, who then led the SWAT team, "did nothing to stop the behavior and actively encouraged it."
When the rest of the SWAT team learned that Lohman was dating Sgt. Scott Thomas, her now-husband, Lohman's complaint claims that Bosel "no longer perceived (Lohman) as a willing participant in his inappropriate conduct. Thereafter, Chief Bosel demonstrated a clear animus toward (Lohman)."
Sexual advances alleged
Lohman also claims that Bosel had made sexual advances toward her, which she rebuffed.
On July 25, 2016, the city filed a response, stating that Lohman's allegations were "wholly without merit and only being raised in an attempt to deflect her own extensive mistakes that posed a safety risk to the city of Mountain View's first responders and the general public."
The police department repeatedly investigated Lohman's performance in what she claims was an attempt to chase her out of the department.
The city documented 25 incidents allegedly demonstrating Lohman's poor performance as a dispatcher between July 2013 and February 2015, including failing to properly dispatch units to the scene of a drowning and mishandling a homicide tip at Shoreline Amphitheater.
Lohman is on paid administrative leave. As lead public safety dispatcher, she made $165,986 in salary and benefits last year. Bosel made $384,217.
Hearings in the Santa Clara County Superior Court suit are set for Oct. 3 and Nov. 21.