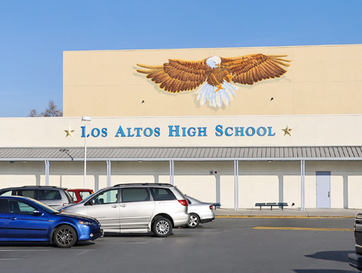 This story was originally printed in Monday's Daily Post.
BY ALLISON LEVITSKY
Daily Post Staff Writer
The Mountain View-Los Altos High School District has settled for $80,000 with a former student who said another student raped her at an off-campus party, Superintendent Jeff Harding told the Post.
Harding said the district was not admitting to any wrongdoing by entering the settlement on March 30. The former Los Altos High School student originally sought $2 million, claiming the district had not complied with state law and Title IX of the Educational Amendments Act of 1972.
Title IX prohibits discrimination on the basis of sex in federally funded schools, including sexual harassment and sexual assault.
The alleged assault occurred Sept. 12, 2015 at a San Jose hotel party hosted by parent Randy Wong, who was convicted in 2012 of supplying 13-year-old girls with alcohol, according to the San Francisco Chronicle. Wong is said to have held several other wild parties for his son and other teenagers, allegedly racking up $50,000 in damage at a rented house in the Santa Cruz Mountains for a post-prom party.
But at the hotel party in 2015, dozens of teenagers and two strippers attended the party, where alcohol and pills, including Xanax and Viagra, the teen told the Chronicle last year.
She said she went into the bathroom around 9:30 p.m. and a senior barged in, locked the door, pushed her to the floor and raped her despite her kicking and screaming.
A forensic medical exam confirmed bruising and abrasions consistent with the teen's account, according to the Chronicle. She filed a police report, but didn't pursue prosecution to avoid the trauma of going through the legal system.
School officials offered counseling services, but did not inform them of their Title IX rights, fully investigate her allegations or provide adequate accommodations at the school, the teen and her mother said.
The teen was nervous attending school events for fear of running into her attacker and ended up skipping graduation.
"We are sensitive to the emotional distress that this student has been under as a result of all the media coverage, whether this occurred or not. We don't doubt that she's been under a lot of stress," Harding said. "It's very hard for a school district to determine the facts in a case like this."
The student filed a complaint with the U.S. Department of Education's Office for Civil Rights, but the agency didn't investigate, Harding said.
The Office for Civil Rights currently has three other open investigations relating to alleged violations of Title IX in the district.
The district's open investigations include two opened on Sept. 9, 2016 relating to sexual violence and procedural requirements and one relating to procedural requirements opened on April 13.
Menlo College has one open investigation from May 15, 2017 relating to procedural requirements.