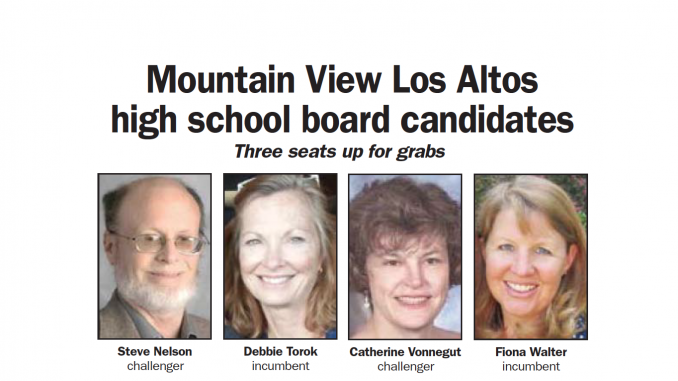 BY ALLISON LEVITSKY
Daily Post Staff Writer
Four candidates are running for three open seats on the Mountain View Los Altos high school board next month — including a former Mountain View Whisman school board member whose combative communication style led a former superintendent to shout, "Fire me!" at a public meeting.
Steve Nelson, 67, didn't return the Post's attempts to get in touch with him. He served on the Mountain View Whisman school board from 2012 to 2016, where he was known for a combative communication style that led to the resignation of former school board President Chris Chiang and stirrings of a recall campaign against Nelson.
At a June 2015 board meeting, former Superintendent Kevin Skelly said, "You are a difficult, difficult board" and shouted, "Then fire me!" at Nelson. The district saw three superintendents during Nelson's term on the board.
Two incumbents and a newcomer are also running for the Mountain View Los Altos school board.
Fiona Walter, a 48-year-old technical editor with two engineering degrees from Stanford, is running for her second term. Walter said she's the proudest of her work improving student and employee mental health with efforts including designating homework-free weekends and breaks, employing seven full-time therapists at schools and implementing refer-a-friend boxes on campuses that are looked at three times a day so that administrators can check up on students in crisis.
Walter said she's the most focused on academic achievement and wants to reach the students who are struggling through parent education speaker series and parent groups targeting Latinos.
"We must provide a world-class education for all of our students, no matter how large that number grows," Walter said of the district's increasing enrollment.
Debbie Torok, a 60-year-old software engineer at CACI International, is running for her second term on the board. She said she's most proud of making continued progress on closing the achievement gap while raising achievement levels of students from all demographics, developing wellness and mental health programs and adding a wide range of classes supporting all levels of student needs and interests.
Torok said she wanted to work on improving the well-being of students and employees, deepening the district's understanding about bullying on social media and narrowing the achievement gap further.
"The Advancement via Individual Determination programs have been very successful in helping to close the achievement gap on our campuses and we have continued (to) increase the number of offerings," Torok said. "The district implemented a Chromebook loaner program and provides internet access to homes that do not have it."
Catherine Vonnegut, a 66-year-old retired software engineer, said she's running for the board to continue enhancing school facilities and technologies to support learning and be a good steward of the $298 million bond approved by voters in June.
Her long-term goals for the district include enhancing student safety and mental health and ensuring the "ability to compete for all social-economic groups with support as needed."
Vonnegut is a member of the district's adult school advisory board and said she wants to address the controversial neighborhood issue of installing football field lights at Mountain View and Los Altos high schools.