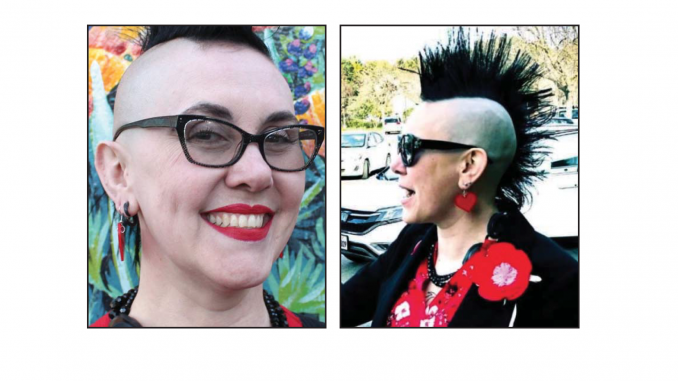 BY ALLISON LEVITSKY
Daily Post Staff Writer
Rebecca Parker Mankey, the Palo Alto activist who lost her job after berating a man in a Make America Great Again hat at Starbucks, was reported missing yesterday (April 19) after she didn't return home from a trip to Lake County.
Mankey, 46, had been visiting a friend in Lakeport since April 11. She left her friend's house around 10 a.m. Thursday (April 18). When she didn't arrive home to Palo Alto, her husband became concerned.
She was reported missing around 1 a.m. yesterday (April 19). Lake County sheriff's detectives found that at around 9 a.m., Mankey's cellphone communicated with a cell tower in Aberdeen, Wash., a city of about 17,000 in the Olympic Peninsula region.
That means her phone was within 1.2 miles of that tower, Aberdeen police Sgt. Ross Lampky told the Post. Lampky, who was just learning about the case as he started the night shift around 6:30 p.m., said he would send officers out to look for Mankey's 2010 black Honda Accord.
The Aberdeen police have four officers working overnight and take about 20 or 30 calls on the night shift, he noted.
In a Facebook post yesterday afternoon, Mankey's friend Melissa Demyan wrote that no one had seen or heard from Mankey in more than 24 hours.
"I last saw her when she was leaving Lake County to head home yesterday," Demyan wrote. "Parker, if you're reading this: we love you so so much and we just want to know you're safe. Please let us know you're okay!"
Anyone with any information about Mankey's disappearance has been asked to call Lake County sheriff's Sgt. John Gregore at (707) 263-2690.
Police investigating the missing person's report were made aware of Mankey's confrontation with the 74-year-old man in a MAGA hat at the California Avenue Starbucks on April 1.
Seeing the hat, Mankey started yelling at the man, a Palo Alto resident named Victor who wears a yarmulke under the hat.
In a Facebook post that ended up being widely circulated among conservatives on social media, Mankey said that she wanted to find out Victor's name, his wife's name, his address and where his kids go to school, seeming to imply an intent to "dox" him, or publicize his personal information with malicious intent.
"He will never forget me and will think seriously about wearing that hat in my town ever again. If you see him in this hat, please confront him," Mankey wrote on Facebook. "He wouldn't call the police, so I called him a wimp. He got his stuff together to leave. I followed him to the register while he complained about me."
Mankey harassed, fired from job
In the end, Victor wasn't doxxed or harassed online. But Mankey was, and her employer, Gryphon Stringed Instruments, fielded angry calls all day on April 2 from people across the country and even in Canada.
Gryphon Strings fired Mankey from her accounting job that day. On April 3, she left the Bayshore Progressive Democrats, an organization that she co-founded.
Victor later told the Post that he didn't think Mankey deserved to be harassed, threatened or fired over the confrontation.
The online attacks continued even after Mankey's disappearance was publicized on the Aberdeen Police Department's Facebook page yesterday morning.
The police press release about Mankey's disappearance was posted on the conservative blog the Gateway Pundit, which promises in its tagline to "leave the Russia-Collusion fairy tale to the Conspiracy media."
The post attracted more than 475 comments and was shared on Facebook 320 times.
"She probably imploded into nothingness when the Mueller Report was released," a Chicago man commented on the police department's Facebook post.