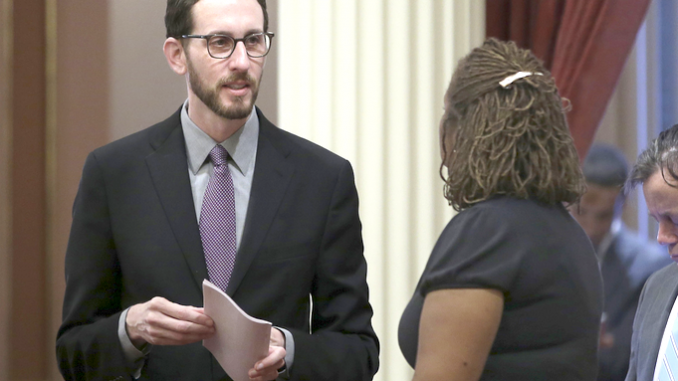 BY ALLISON LEVITSKY
Daily Post Staff Writer
For better or worse, Palo Alto City Hall was abuzz yesterday (Dec. 4) after state Sen. Scott Wiener, D-San Francisco, announced the second coming of a bill that would force cities to allow the construction of dense housing near train and high-traffic bus stops.
Wiener introduced Senate Bill 50, the More HOMES (Housing, Opportunity, Mobility, Equity and Stability) Act. The bill is similar to Senate Bill 827, another attempt Wiener made at housing legislation this year and would eliminate low-density zoning near transit and job centers.
Unlike SB827, though, SB50 wouldn't allow developers to knock down properties that renters have occupied in the last seven years. It also targets wealthy cities, like Palo Alto, with high median incomes, strong public schools and employment nearby, forcing looser development restrictions even if there isn't good public transportation nearby.
In some cases, the bill also allows cities to propose other plans to encourage housing development instead of using the bill's system.
Palo Alto Councilman Adrian Fine, one of the council's staunchest proponents of dense, transit-oriented housing, said Wiener's office contacted him about the new bill yesterday. Fine said he would continue advocating on behalf of Palo Alto's interests as he provides input on the bill.
"The discussions in Palo Alto about housing over the past few years show why we need the state to step in and help solve the housing crisis," Fine said. "Local councils and the idolatry around local control are not going to solve our housing issues."
'Fundamentally broken'
For Fine, the council's "tooth and nail" fight over whether to allow a three-story affordable housing development at 3705 El Camino Real — the single-story building where Nouvelle Bridal Boutique is located now — shows that the current system for approving housing development is "fundamentally broken."
Wiener announced the bill the morning after a marathon Palo Alto City Council hearing about loosening zoning restrictions to encourage the development of denser housing. The city code changes approved Monday include higher minimum densities on multifamily lots, a maximum average unit size of 1,500 square feet and communal roof decks to be allowed to stand in for courtyards, balconies or backyards downtown.
Among other things, Residentialist Councilwomen Karen Holman and Lydia Kou raised concerns about the noise impacts of roof decks on downtown residents and hotel visitors.
Holman suggested that police be empowered to write tickets for any noise that is audible beyond the building's property line.
"(Monday's meeting was) seven hours, and most of it was Karen Holman talking about rooftops and noise. That's why we need this bill," Fine said.
Bill called 'dumb'
Other council members oppose SB50. Vice Mayor Eric Filseth said the bill was a "textbook example of why local control is more important than ever."
"Beyond obviously being horrible for voters, the bill is just dumb. It doesn't work, because it's still trying to legislate what's fundamentally an economic problem," Filseth said. "The irony is the Bay Area is actually starting to get smarter in terms of rethinking its housing and transportation funding and geography."
Filseth said that the region's housing and transportation crises are essentially about paying for the infrastructure necessary to sustain the region, and that Wiener's bill "skips all that."
Filseth also questioned Wiener's focus on Palo Alto as Google prepares to build millions of square feet of office space and thousands of housing units near downtown San Jose.
"The Bay Area is going to Diridon station, while SB50 is still fixated on suburbs. It's nonsensical," Filseth said.
Kou agreed, and said the bill threatens the "uniqueness" of "low-density, family towns."
She said she worries that the bill would displace tenants and lead to more homelessness and vehicle dwelling, despite the displacement protections baked into the bill.
Kou also said she wonders what impact the bill would have on school enrollment and worries about the impact of buildings taller than 50 feet on noise and blocking neighbors' sunlight.
Kou also questioned the appropriateness of building transit-oriented housing in car-friendly Palo Alto without acknowledging that "transportation is broken."
"If VTA cancels a route in Palo Alto, can we demolish the building?" Kou asked, tongue in cheek.
Mayor Liz Kniss said she hadn't read the bill yesterday, but that she expected state lawmakers to find a way to enforce denser housing.
"There's so many complaints in the Bay Area about traffic and the high cost of housing and so forth that the legislature takes a look at this and says, 'If they can't handle it, then we'll handle it for them,'" Kniss said. "This legislature is going to make something happen, come hell or high water."