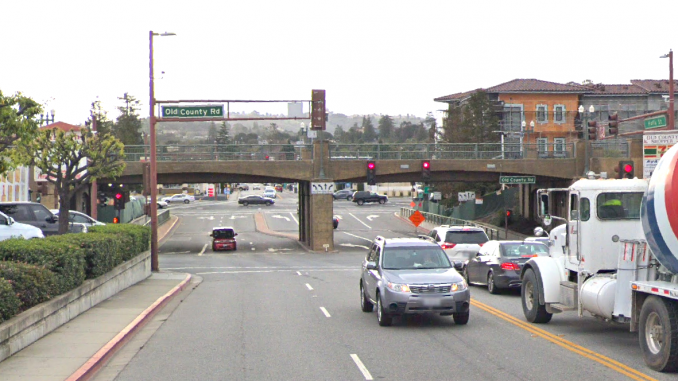 By EMILY MIBACH
Daily Post Staff Writer
The Measure W sales tax increase in San Mateo County is intended to fund transportation projects and programs to reduce traffic congestion. But very little of it will go toward solving an expensive problem that could create a great deal of traffic congestion — building bridges to separate streets from the Caltrain tracks, something planners call "grade separations."
The need to build grade separations is urgent because when Caltrain goes electric, it will run trains more frequently, resulting in the crossing gates being down more often during commute hours. That will create massive traffic backups.
Of the $80 million this half-cent sales tax will generate annually, half will support the SamTrans bus and paratransit system. Only $2 million a year will go toward grade separations.
There are 32 at-grade crossings in San Mateo County, where the cars drive over the tracks. Some will get bridges while others will become dead-ends.
Menlo Park has looked into three grade separations at Ravenswood, Oak Grove and Glenwood avenues, which was estimated to cost about $380 million. Just separating the tracks at Ravenswood is estimated to cost about $190 million.
San Mateo is raising the tracks between Highway 92 and Hillsdale Boulevard and slightly lowering the road at 25th Avenue. This project is scheduled to be completed by 2020 and cost $180 million.
Redwood City is working on plans to separate Whipple Avenue.
The Measure W sales tax increase would provide $2 million a year for grade separations, or a total of $60 million (without adjustment for inflation) over the 30 years of the tax.
However, $60 million wouldn't even pay for one grade separation.
But that isn't the intent of the measure, said Sam-Trans Board member and Belmont Councilman Charles Stone.
"This is not a grade separation measure. This is a public transportation measure that has money for other things as well," Stone said. "This is really a measure focused on getting people moving."
Money would be for planning
The $2 million a year earmarked for grade separations will be used on planning the bridges so that cities can then go to the state and other agencies and get money for construction.
"The important thing that this (tax) does, is that even though there's not enough for a lot of projects, it does continue to provide enough money for cities to continue their planning processes," co-founder of Friends of Caltrain Adina Levin said.
Sometimes, cities need grants just to plan the grade separations, so having a pot of money for cities to use in order to plan projects will be useful, Stone said.
San Mateo County Supervisor Don Horsley suggested that cities could potentially use some of the $10 million set aside for local projects for grade separations.
Horsley said he originally petitioned for 3% of the tax to go to grade separations. The Board of Supervisors decided it should be 2.5% or $2 million a year.
However, Levin said some difficult decisions needed to be made when coming up with the measure's expenditure plan, and decision makers found it more important to have a majority of the tax go to public transportation.
Half will go for SamTrans
Half of the tax, or $40 million annually, will fund SamTrans and its paratransit services, and $8 million, or 10%, of the tax will go toward mass transit projects, such as bringing a public ferry service to the Redwood City Port and reviving the Dumbarton rail line.
Another $18 million will go to highway improvements and $4 million will go to bicycle and pedestrian improvements.
The tax will have to be approved by a two-thirds majority in order to pass in November.
It's likely that another transportation tax will be on the November 2020 ballot. Caltrain is expected to ask for an eighth of a cent sales tax in San Mateo, Santa Clara and San Francisco counties.
That sales tax would bring Caltrain about $100 million per year. The new money would replace the $30 million in annual contributions the three counties make each year.