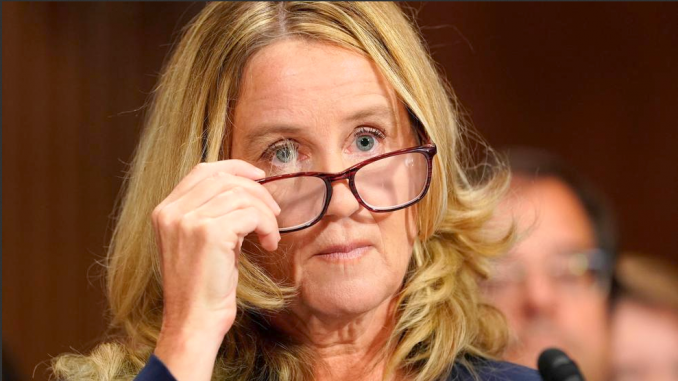 BY ALLISON LEVITSKY
Daily Post Staff Writer
Palo Alto Mayor Liz Kniss is planning to publicly honor local psychology professor Christine Blasey Ford for testifying against now-Supreme Court Justice Brett Kavanaugh, but doubts Ford will show up to City Hall to accept the proclamation.
Kniss said she would probably present the honor at the City Council meeting on Oct. 29, but that she hadn't contacted Ford about it because "nobody seems to know where (Ford) is."
Last month, Ford testified to the Senate Judiciary Committee that when she and Kavanaugh were in high school, he got drunk and tried to rape her at a party.
She also said that she and her family had moved out of their south Palo Alto home and had been staying in different secure locations because of the violent threats they had received since she came forward.
Kavanaugh denied the allegations, and after the FBI interviewed nine people, the Senate voted to confirm Kavanaugh's lifetime appointment on Oct. 6.
Contacting Ford
"I have no idea how to reach her whatsoever," Kniss said. "If anybody hears anything about her or anything like that, actually, we'd like to know."
Kniss said she could contact Ford's lawyer, Debra Katz, but doubted Katz would want to pass along the message, considering the violent threats Ford has received since coming forward.
"Almost everything begins to really infringe, and I don't even know if at this point she wants to be reminded of this whole thing," Kniss said. "In that same situation, probably anyone might just say, 'That's enough.'"
Amid an outpouring of support for Ford by Palo Altans, Kniss came forward last month with her own experiences of being sexually assaulted in the 1960s.
In one instance, a childhood friend offered to drive Kniss home from a party in the mid-1960s. A few years later, a pilot assaulted her in a hotel room when she was a flight attendant.
Kniss wondered aloud if Ford had regrets about coming forward because of the violent threats she had received.
Kniss said Ford's employer, Palo Alto University, could send someone to accept the proclamation on Ford's behalf.
Concern over Ford's future
"She can never be anonymous again. If she goes back to teaching, then probably people will sign up for her class because they're curious," Kniss said. "She must wake up every morning thinking, 'What good did it do?' He's been sworn in, and he's a (Supreme Court) justice for life."
Kniss said she doubted the thoroughness of the brief FBI investigation, saying that President Trump has already fired one FBI director.
"We have a despot as our president, which is really something, and he doesn't seem to care about much except for his own agenda," Kniss said. "They probably opened the file, said 'OK, we've opened the file. Good enough.'"