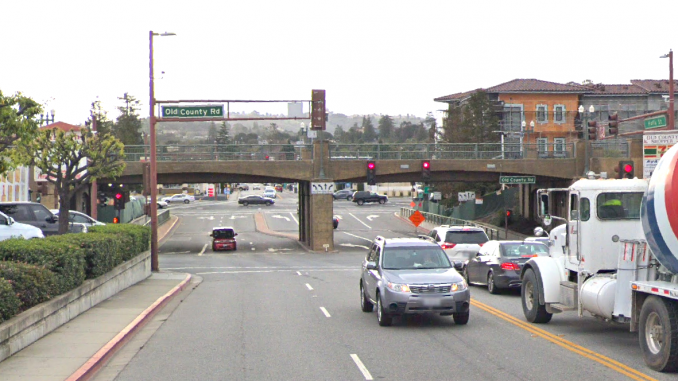 BY ALLISON LEVITSKY
Daily Post Staff Writer
The cities of Palo Alto and Mountain View are at odds with the city of Sunnyvale over how to allocate funds for rail crossing construction from Measure B almost two years after the sales tax passed, according to city leaders.
"There is no question that from the very beginning, we have heard that there is going to be sort of a shootout over the funds," Palo Alto Mayor Liz Kniss said. "Kind of what I've been hearing is 'whoever gets there first.'"
The 30-year, half-cent sales tax was passed by 71% of Santa Clara County voters in 2016. Of the $6 billion it's set to bring in, $700 million is for separating the Caltrain tracks from the streets they intersect, a project known as grade separation.
The tracks are set to be electrified in 2022, which will send many more trains down the Peninsula and will back up traffic if the tracks aren't separated.
Palo Alto, Mountain View and Sunnyvale are the only three cities in the county that are planning grade separation projects. All three are eying the $700 million from Measure B. The question is: How to divvy it up between the three cities?
Mountain View Mayor Lenny Siegel said his city and Palo Alto think the money should be divided based on the number of grade separations they expect to build, leaving Palo Alto $350 million for its four grade crossings and $175 million each for Mountain View and Sunnyvale for their two grade crossings.
But Sunnyvale Mayor Glenn Hendricks said he was "not sure" that the funding should be evenly split by the number of grade crossings. He said there were several factors in deciding how to split up the funds, including whether the cities are all ready to start construction.
Sunnyvale has done some preliminary design work on the crossing at Mary Avenue, where the tracks will stay where they are and the street will go underneath. The city is not as far along with deciding what to do with Sunnyvale Avenue.
Palo Alto's plans are far from settled, but city leaders are leaning in the direction of blocking off the street at Churchill and Palo Alto avenues and possibly raising or lowering the tracks at Charleston Road and Meadow Drive. A grade separation at Palo Alto Avenue, where Alma Street connects to El Camino Real, is still on the table.
Mountain View plans to block off Castro Street and build a $120 million bridge at Rengstorff Avenue.
Hendricks said he wouldn't characterize the negotiations as a fight, but said the cities needed to come to an agreement that they could all support when the VTA board approves it.
"The three cities need to collaboratively work together to find a good solution that talks about being able to get the most number of grade crossings done," Hendricks said. "We need to put together a plan that makes sense for everybody."
Kniss has had to recuse herself from discussions about grade separations because she owns property near the tracks. But she said she knows it's been difficult to nail down an agreement because of the turnover of people involved.
"Frequently the people who are initially involved in some of the discussions are no longer there, so we also have the problem of bureaucratic and institutional memory at the same time," Kniss said. "Someone will say 'I think that's what we said five years ago,' but, again, it's a great lesson that everything should be in writing."
Collection of the Measure B sales tax began in April 2017, but the funds remain in limbo pending the outcome of litigation. In January 2017, retired county planner and Saratoga resident Cheriel Jensen sued VTA over the measure, claiming it was illegal because the transit agency didn't adequately specify the transportation projects it would fund. Jensen lost the case, but has filed an appeal. Oral arguments in Jensen's appeal are scheduled for Oct. 9.