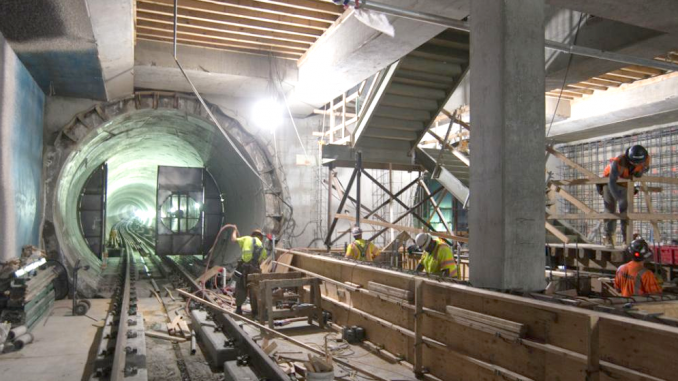 BY ALLISON LEVITSKY
Daily Post Staff Writer
The idea of putting Caltrain in a tunnel in Palo Alto is still alive.
City Council on Tuesday (Jan. 22) rejected Ed Shikada's recommendation to bury the idea of a tunnel north of Oregon Expressway, and voted 5-0 to continue considering whether to bury the train in a citywide tunnel and to fully or partially close Churchill Avenue at the tracks.
Mayor Eric Filseth and Councilwoman Liz Kniss recused themselves.
The city is grappling with how to modify the Churchill Avenue, Palo Alto Avenue, Meadow Drive and Charleston Road crossings to prepare for an increase in trains. The increase is expected when Caltrain switches to electric in 2022 and high-speed rail launches in 2029. Today, the city sees about 92 trains per day. In 2022, Caltrain expects that number to increase to 114, and High Speed Rail expects to send 128 trains per day to and from San Francisco, with an additional 24 trains starting in San Jose.
If the city left the crossings the way they are, more frequent trains would back up traffic.
The options for Meadow and Charleston are to put the tracks on a bridge over the road, to dig a trench for the tracks or to elevate the tracks on a viaduct.
The council also decided to study the Palo Alto Avenue crossing in a separate planning effort that would encompass the downtown area. Shikada had recommended that the city eliminate the possibility of a tunnel north of Oregon Expressway.
"Let's do the legwork of proving, really, why it needs to be eliminated," Vice Mayor Adrian Fine said. "We need to just study it a bit more, really tease out the assumptions and parameters we're looking at."
Council's Rail Committee recommended that the city study a tunnel with freight trains running on the surface and the passenger train underground.
Consultants hired by the city have said the citywide tunnel would be too expensive to be feasible at $3.3 billion to $4 billion.
The trench is expected to cost between $800 million and $950 million.
Raising the tracks and lowering the street at Meadow and Charleston — called the hybrid approach — would cost between $200 million and $250 million at each intersection.
The viaduct option at Meadow and Charleston would cost between $400 million and $500 million, according to the city.
Council has narrowed 34 options down to six, but missed its Dec. 13 goal of settling on a final plan.