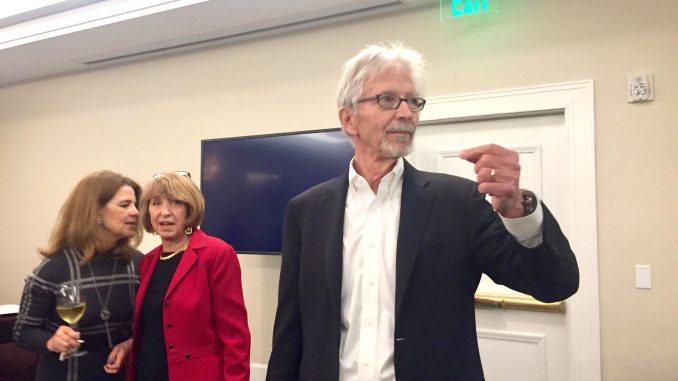 BY ALLISON LEVITSKY
Daily Post Staff Writer
Palo Alto city leaders spent $5,000 in taxpayer funds to throw a retirement party for former City Manager Jim Keene, according to documents obtained by the Post.
Assistant City Manager Ed Shikada, who is taking over for Keene as city manager, signed a city memo Oct. 26 authorizing the expenditure.
The money came out of the City Council contingency fund, which has about $200,000 left.
The documents, obtained from the city through a California Public Records Act request, do not specify how the funds were used.
The party was held Dec. 7 at the Garden Court Hotel, which donated its courtyard ballroom for the occasion. The city provided hors d'oeuvres while guests paid for their own drinks.
Last month, city spokeswoman Claudia Keith declined to say how much public money was used on the party, only referring to it as a "couple thousand dollars." City employees and council members also chipped in, Keith said.
Keene, 67, stepped down Dec. 20 after a 38-year career in government, including a decade as Palo Alto's city manager.
Other uses of council contingency fund
Over the last nine months, council has also used the contingency fund to donate a total of $50,000 to fire relief causes in the North Bay and Butte County.
Other recent uses of the contingency fund have run the gamut from road striping to the Barron Park Donkey Project, funding vet bills, pasture lease and food for the two donkeys at Bol Park.
In March 2016, the council used $8,000 to fund three town hall meetings per year.
In August 2016, the council funded the Know Your Neighbors Grant Program with $25,000 and increased its general liability insurance policy by $5,000 per year to cover neighborhood associations' use of city facilities.
Money for the donkeys
In December 2016, council used the contingency fund to donate $15,000 to the Barron Park Donkey Project.
In March 2017, the city paid Caltrain $4,650 for a six-hour test of the Situational Awareness and Identification System, which detects people on the tracks.
In April 2017, the council used $80,000 for sign and striping improvements for cyclists at Highway 280 and Page Mill Road.