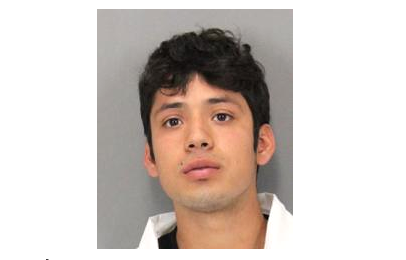 By The Daily Post staff
A resident of Palo Alto's Crescent Park neighborhood, while he was away from home, watched on his cellphone as a burglar rummaged through his house. The resident quickly called police, who located the suspected burglar nearby and arrested him, police said.
The suspect, Miguel Valdovinos Esparza, 20, of East Palo Alto, also had items in his car that were from another burglary 900 block of Oregon Avenue in Palo Alto, according to police.
This took place on Friday (Sept. 7) when at 10:11 a.m., Palo Alto police got a call from a man who said his house in the 1900 block of Edgewood Drive was being burglarized. The victim, a man in his 50s, reported that he was remotely live-monitoring his security system and could see a burglar inside his home. The victim said he had watched the suspect kick open a bedroom door, and also had seen him go in and out of the home a couple of times removing property from inside.
Officers and plainclothes detectives responded immediately, but the burglar had already left. Officers discovered the house had been rummaged through, and that the suspect had entered the home by forcing open a door in the backyard.
At 10:27 a.m., detectives located a man matching the suspect's description on foot in the 1800 block of Woodland Avenue in East Palo Alto and detained him without incident. Detectives found the suspect's vehicle, a red 2015 Honda Civic two-door, parked nearby. Inside the car, they discovered electronic devices stolen from the victim's home on Edgewood Drive. Police arrested the man and returned the stolen property to the victim.
Also inside the suspect's vehicle, detectives found items that had been reported stolen in a residential burglary from the 900 block of Oregon Avenue that had occurred on Aug. 31. In that case, somebody had removed a window screen of an unoccupied home and stole several legally-owned handguns and rifles. Detectives located gun cases stolen from that burglary inside the suspect's vehicle, but the guns themselves were not there.
As a result of finding the gun cases, detectives obtained a search warrant allowing police to search the suspect's residence for the weapons stolen in the Oregon Avenue burglary. At about 4:30 p.m. on Friday (Sept. 7), the Palo Alto Police Department's SWAT team served the warrant at the suspect's home in the 1800 block of Woodland Avenue in East Palo Alto. The weapons were not there, but detectives are continuing to investigate other leads in an attempt to solve the Oregon Avenue burglary and recover the stolen property.
Esparza was booked into the Santa Clara County Main Jail for felony possession of stolen property for both the Edgewood Drive and Oregon Avenue burglaries, police said.