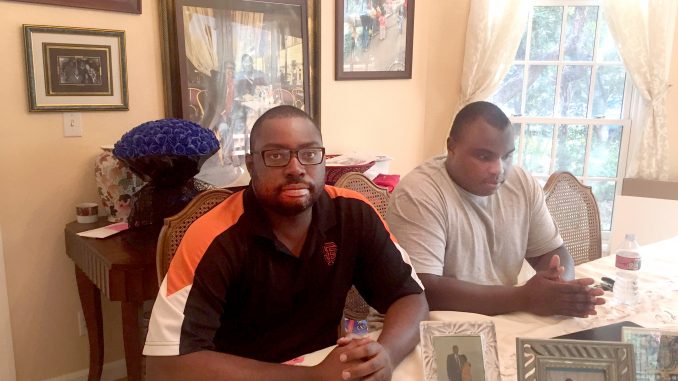 BY EMILY MIBACH
Daily Post Staff Writer
Residents tomorrow (Aug. 25) are planning to search for a missing Palo Alto woman who is a regular volunteer at All Saints' Episcopal Church Food Closet, and has lived in the area for well over 30 years.
Wamaitha Kaboga-Miller, 66, disappeared last Friday (Aug. 17) after she bought cigarettes at the Country Time Market at 2200 University Ave. in East Palo Alto.
Kaboga-Miller has been a South Bay resident since she immigrated to the United States from Kenya on a student visa. She attended San Jose State and bought her first home in Mountain View after graduating. Upon marrying her husband, Kemp, they lived in Menlo Park for a few years before buying their home in Palo Alto's Crescent Park neighborhood about 30 years ago, said her son Clovis Kaboga-Miller.
She worked for tech companies such as Omnicell, Broadcom and Apple. But she has a place in her heart for helping out people who don't have enough to eat, her sons said.
As a result, she is a regular volunteer at the food closet, which Clovis Kaboga-Miller said stems from childhood growing up poor in Kenya.
Last seen on Friday
Kaboga-Miller was last seen on Friday (Aug. 17) driving on Highway 84 (the Bayfront Expressway) toward the Dumbarton Bridge, sometime around 10 a.m. after leaving the store, according to Clovis Kaboga-Miller.
She was driving a Silver 2002 Mercedes CLK Coupe with the license plate DP241LU. The license plate has a handicap designation on it.
After she didn't return home, her family reported her missing on Saturday to Palo Alto police.
Kaboga-Miller didn't like to drive and had not driven in about a month, said her other son Njoroge Kaboga-Miller. Both sons are involved in the search for their mother.
The most driving Kaboga-Miller did was to the food closet at All Saints Church in downtown Palo Alto or to visit her sisters and relatives in Menlo Park, Palo Alto and East Palo Alto, her sons said.
She had back surgery in mid-July, according to Clovis Kaboga-Miller, who lives with his mother and her husband of 35 years, Kemp Kaboga-Miller. She was on pain medication as part of her recovery from the surgery, and was not very mobile at the time she disappeared.
Her sons said Kaboga-Miller had been loopy from the medication, which likely affected her decision making.
Didn't drive over the bridge

Njoroge Kaboga-Miller said that license plate readers on the Dumbarton Bridge did not ping his mother's car, which leaves the family to believe that she is still on the Peninsula.
This clue is why the Kaboga-Miller family has organized a search party tomorrow (Aug. 25), and volunteers are asked to help.
The search will begin at 9 a.m., with the search headquartered at the East Palo Alto YMCA at 550 Bell St., just across the street from where Kaboga-Miller was last seen.
If you're not able to search the Baylands, folks will also be handing out flyers at the University Avenue and Donohoe Street intersection, according to the Kaboga-Millers.
What's called a "silver alert" has been issued — which is similar to an amber alert for older or at risk people — but Njoroge Kaboga-Miller is on a mission to get the CHP to put up his mother's information on the billboards that hang over the freeways. He is asking anyone who cannot come to the search on Saturday to instead contact local politicians to put a push on the CHP to broadcast Wamaitha's information.
"This is the definition of a mystery. We can't sleep until we find our mother and know where she is at," said Njoroge Kaboga-Miller.