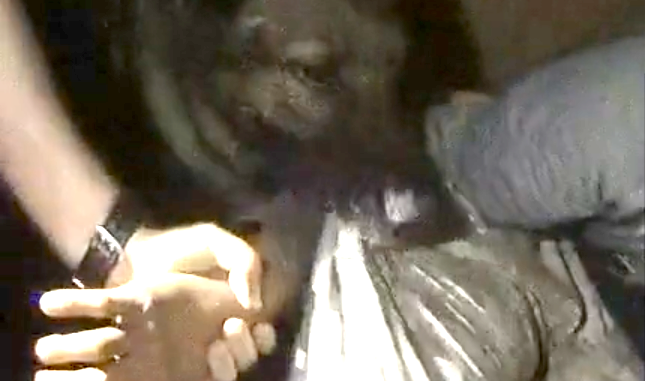 To view the dog attack, here's the video Palo Alto police released. And here's a link to the eight videos Mountain View police released.
BY KYLE MARTIN
Daily Post Staff Writer
A police dog chomped into the leg of a sleeping Mountain View man who was mistaken by police for a kidnapper, according to police body-cam video released yesterday (March 16) by police departments in Palo Alto and Mountain View at the request of the Post.
The attack happened on June 25 at about 2:30 a.m. when Mountain View police were searching for a kidnapper in the 1900 block of Elsie Ave. Mountain View asked Palo Alto for the use of one of its canine teams, a dog and an officer trained to handle the dog. Police searched nearby homes, including at least two others in the 1800 block of Elsie.
According to a Mountain View police report released to the Post, officers found a 2006 gray Honda Civic nearby a house in the 1800 block of Elsie Ave. in Mountain View with mail belonging to the kidnapping victim inside, which led them to suspect the kidnapper was there. After getting permission from a resident in the home, who turned out to be the victim's niece, they found Joel Domingo Alejo, 29, asleep in the backyard.
"Palo Alto police search with a police K9. Surrender now," Palo Alto police officer Nick Enberg said on video as police enter through the side of the home to the backyard where Alejo slept.
In Palo Alto's video, less than one minute in, the police enter Alejo's home and then Enberg quickly gives an instruction to the dog and the dog attacks Alejo. Alejo screams as the dog used its teeth to latch onto Alejo's leg. A police officer tells Alejo to "give up" and "stop resisting" while the dog continues to bite Alejo.
The video shows that Alejo attempted to protect himself by pushing the dog off.
A police officer instructs Alejo to "let go of the dog" before saying "who is this?" as the dog keeps biting Alejo.
Alejo is then flipped on his stomach and was handcuffed.
Police said later they mistakenly went to the home of Alejo, who was not suspected of any crime.
Gashes in victim's leg
The attack left gashes exposing fat cells on Alejo's leg. It caused him "emotional distress, fear, terror, anxiety, humiliation, loss of sense of security, dignity and pride, punitive damages, extreme pain," bleeding and bruising, according to claims Alejo filed against each city. The claims seek $20 million. If a city denies the claim, it allows the claimant to file a lawsuit in Superior Court, which could possibly lead to a jury trial.
"I don't think this is him," Mountain View police officer Travis Herbek said after Alejo was attacked. "I think it's just a prowler."
Police, after inspecting Alejo's ID, realized they had the wrong guy.
Alejo was searched for weapons and was asked by police if he had any pistols on him.
Police asked Alejo if he lived there, to which Alejo said yes, and an officer responded with, "Well, he didn't tell us that." However, Alejo was sleeping when the dog found him.
Hospitalized
As police take a bleeding and limping Alejo from the home to a Mountain View patrol car, he is told he is not under arrest and that police thought he was a kidnapper hiding at the home. Alejo was later taken to a hospital for treatment on his injuries after Mountain View Fire Department personnel dressed his wounds.
A Filipino Mountain View police officer later interviewed residents of the home, who were also Filipino, and found out that Alejo's niece allowed police to inspect the backyard.
Officers won't be charged
The Santa Clara County District Attorney's office said it will not press charges against any of the officers involved in the dog attack.
The Post learned of the incident from a claim Alejo filed with the city of Mountain View, and then obtained a similar claim filed with Palo Alto.
On Jan. 25, the newspaper filed a request for body-cam video of the incident, citing laws that require police agencies to release video of such use-of-force incidents within 45 days.
The city of Palo Alto on Feb. 4 denied the Post's request for the video of the incident, but has since had a change of heart. The video was released yesterday, 50 days after the newspaper's request.
On March 5, Mountain View told the Post it had accidentally overlooked the newspaper's Feb. 2 request for the video.
Both cities released their videos yesterday, along with statements explaining their side of things.
Palo Alto released one video. Mountain View released eight.
Palo Alto city spokeswoman Meghan Horrigan-Taylor said Palo Alto police officers Enberg and Ian Johnson are pictured in Palo Alto's video. She also said there is additional video footage the city will release after some redactions.
Palo Alto City Council discussed the attack in closed session Monday night. Council had no reportable action from their discussions but City Manager Ed Shikada told the public the city would be providing an update on the case yesterday.
Mountain View previously voted in closed session to deny Alejo's $20 million claim.