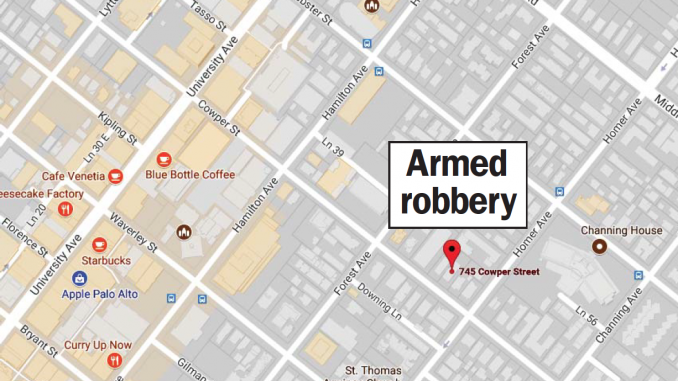 Correction: Because of a typo in a Police Department news release, this story gave the wrong location for the robbery. The version below gives the correct address.
By the Daily Post staff
A man with a gun robbed a woman of her cellphone as she sat in her car in downtown Palo Alto, police said today.
The gunman remains at large following the robbery at 745 Cowper St. on Friday (Nov. 10) at 11 p.m., police said.
The woman, described as being in her 20s, flagged down a passing police officer right after the robbery.
She said she had been sitting in her parked car with the engine running while looking at her cellphone. A man walked up to her driver's side window, pointed a gun at her and demanded money. She turned over her cellphone instead, and the man ran away southbound on Cowper Street toward University Avenue.
The victim wasn't able to get a good look at the man's face so police said they won't be releasing a sketch to the public.
She said the man was black or Hispanic, age unknown, with an average build. He was wearing a red zippered sweatshirt with the hood pulled over his head. He did not speak with an accent.
She said the weapon was a silver handgun.
There have been no similar robberies in Palo Alto lately.
Detectives are investigating the incident and anyone with information is asked to call the police at (650) 329-2413. Anonymous tips can be emailed to [email protected] or texted to (650) 383-8984.