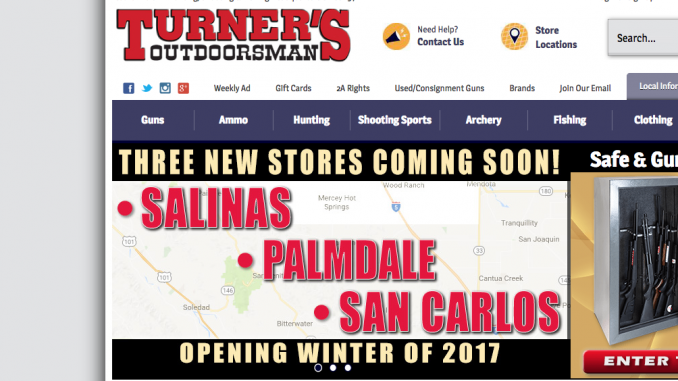 BY EMILY MIBACH
Daily Post Staff Writer
After hearing from about 100 residents last night, San Carlos City Council voted 4-1 to delay the opening of a new gun store until next year, if not indefinitely.
Vice Mayor Matt Grocott was the lone dissenting vote on the moratorium, which will prevent a Turner's Outdoorsman, a chain store with mostly Southern California locations, from opening up at 1123 Industrial Road later this month as it had planned.
"It is not fair for this business to get as far as it has with an application … and then a firestorm happens," Grocott said.
Turner's Outdoorsman has already signed a 10-year lease for the location on Industrial Road near REI, and has spent $125,000 on the new store.
Grocott also said he was concerned that the city may see a lawsuit from Turner's or a Second Amendment group such as the NRA.
But Councilman Mark Olbert, who voted "hell yes" for the moratorium, had a different take on the issue. Olbert said that since guns are the only commodity mentioned in the Bill of Rights, government is allowed to regulate guns.
Strong public interest
Olbert said he has received the more correspondence from residents about this issue than anything else he has voted on in his 16 years as a public servant.
Mayor Bob Grassilli said he is in favor of the moratorium because it is clear to him that residents want regulations on gun shops.
Council last night approved a 45-day moratorium on the opening of new gun stores. That action was taken as an "urgency" action in order to stop Turner's from opening this month.
Council wants time to examine the issue and consider possible regulations. City Manager Jeff Maltbie said he wouldn't be able to set up such a meeting until after the Christmas holidays. So council will pass a second ordinance in the next few weeks to extend the moratorium for as long as 10.5 months.
About 120 people requested to speak and about 100 did, which took up most of the three-and-a-half-hour hearing on the moratorium. Most wanted to ban gun shops.
Resident Lorrie Low read a letter from her 5-year-old son that said there "is no point in guns."
Bill Ortiz, vice president of compliance at Turner's Outdoorsman, said there is no public safety risk in the council allowing the store to open, and added the store works with local law enforcement officials and the Bureau of Alcohol, Tobacco and Firearms and Explosives to prevent people from buying guns for those who are restricted from purchasing them.
Doctors weigh in
But pediatrician Dr. Mary Rhee gave the council a petition signed by 64 doctors in the area who say opening the store, and allowing for more guns to be sold in the city, could cause safety concerns.
"This is contrary to Turner's opinion, but the medical community has formed a consensus against opening this store. We need a moratorium to digest it and look at the impacts to the city," Rhee said.
Turner's Ortiz also said that the store goes above California safety laws for keeping guns safe and locked up. On May 22, 2016, three men used a car to smash in the front of the Imbert and Smithers gun store at 1144 El Camino Real in San Carlos and take numerous firearms.
Ortiz also said that Turner's Outdoorsman turns away potential buyers whose background check with the state comes back inconclusive.
Second Amendment rights
But some residents pointed out that the store has a link on its website about standing up for your Second Amendment rights.
"They are actively working to reverse gun safety laws, (and make it) easier to secure semi-automatic firearms," resident Leslie Doohan said.
But others, such as owner of Imbert and Smithers, Gina Rolsky-Feige, said that those who fear guns and are concerned about gun violence ought to come and talk to her.
"I want to stay in this community," Rolsky-Feige said. "I am happy to help (people) understand my business and the firearms industry."