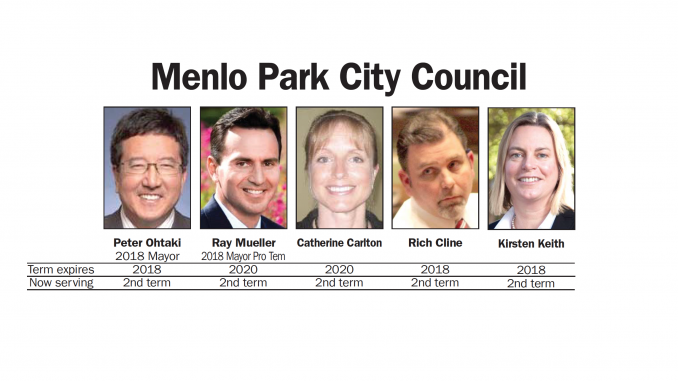 BY EMILY MIBACH
Daily Post Staff Writer
A open-government violation by a Menlo Park councilwoman will likely sideline the city's controversial library revamp project until next year.
The council was supposed to discuss next steps regarding the city's potential replacement of its main library at Burgess Park, but the meeting has been abruptly canceled by City Attorney Bill McClure.
But Councilwoman Kirsten Keith discussed the project with at least two members of council, violating the state's Brown Act, which is intended to keep elected officials from making backroom deals.
On a five-member council, one council member can only discuss an item with one other council member outside of a scheduled meeting. If a council member talks to two council members, that means three people would be involved in the conversation. And three people would constitute a majority on a five-member council. Keith, who serves on the council's library subcommittee with fellow councilman Rich Cline, had discussed the project with him, according to a report by McClure regarding the violation.
But then she had a short conversation about the library with another council member, Mayor Peter Ohtaki, according to McClure.
Keith and Ohtaki talked about the library Aug. 16 at the downtown Block Party, McClure said.
Toward the end of the conversation however, Keith commented to Ohtaki that "she hoped he would support moving forward" with the library project, McClure's report says.
McClure wrote that Ohtaki responded to Keith in a "noncommittal manner," saying he wasn't sure how he would vote on the topic.
The Brown Act violation came to light after Councilman Ray Mueller contacted Ohtaki to talk about the library project and Ohtaki told Mueller that he couldn't talk about the issue because he had already discussed it with Keith.
Ohtaki then raised the issue with McClure, according to the city attorney's report.
'Inadvertent'
McClure — who, as city attorney, reports to council — said the violation was "inadvertent."
He said that since there were no "collective decisions" made by a majority of the council to vote one way or the other for the library revamp, there was no criminal violation of the Brown Act. He said the city need to admonish the council members involved.
The violation was also disclosed to the District Attorney's office, and Assistant District Attorney Al Serrato determined that there was no criminal action and no charges would be brought against Keith or any other council member.
However, the DA's office did recommend that the city disclose the violation publicly. The disclosure will be made when McClure presents his report on the violation at Tuesday's meeting.
Because of this incident, McClure is recommending shelving the library project until January when there will be a new council. Ohtaki and Keith are running for re-election, while Cline has decided not to run again.
Also, the positions of library director and assistant public works director are vacant, making it difficult for council to move forward at this time anyway.
The city is trying to decide whether to accept a $38 million donation from billionaire John Arrillaga that will pay part of the cost of a new downtown library, and whether to build a new library in the Belle Haven neighborhood.
Previous Brown Act violation
This is not the first time Brown Act violation by the Menlo Park City Council. In 2010, then-Councilwoman Kelly Fergusson lobbied Cline and Ohtaki to vote for her for mayor.
Fergusson was voted in as mayor 3-2, with votes from herself, Keith and Cline. Late councilman Andy Cohen and Ohtaki voted against Fergusson's appointment as mayor.
Menlo Park Fire Protection Board Member Peter Carpenter blew the whistle on Fergusson's lobbying, and Fergusson gave up her seat as mayor, but stayed on council before losing re-election in 2012.
Fergusson also had to attend ethics classes. She was investigated by the DA's office, which declined to press charges.