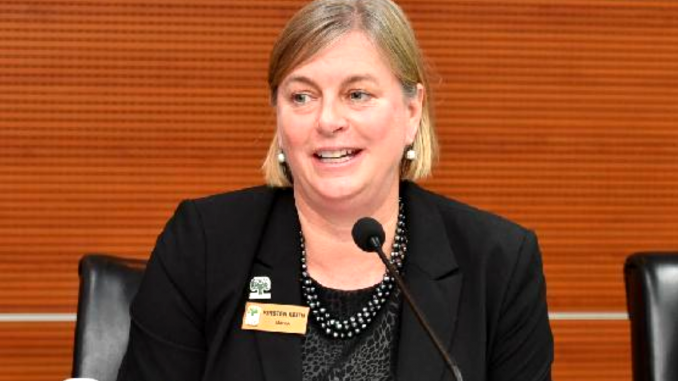 BY EMILY MIBACH
Daily Post Staff Writer
Did Menlo Park Councilwoman Kirsten Keith wear a badge that said "mayor" when she attended a business meeting in Chengdu, China, even though she wasn't the mayor?
Keith, in an interview with the Post, did not admit to wearing the mayor's badge but there's a photo circulating in Chinese media that appears to show her wearing it.
"I was there, and if I inadvertently wore that pin, that's what happened. I am a former mayor and a council member and … I always represented myself as such," Keith said.
Keith is shown on this website wearing what appears to be a mayor's pin, though the resolution isn't sharp. The word under her name is difficult to read but it appears to have the same number of characters as the word "mayor." Keith had ended her one-year term as mayor three months prior to the March 25-27 trip.
A one-year job
Menlo Park, like other mid-Peninsula cities, changes its mayor every year. The mayor is one of the council members. Menlo Park's 2018 mayor is Peter Ohtaki.
Keith, along with Mountain View Mayor Lenny Siegel and Mayor David Haubert of the Alameda County city of Dublin, were invited to Chengdu by former Mountain View Mayor Mike Kasperzak.
Kasperzak is the CEO of HIM Group Holdings, a business accelerator to help U.S.-based businesses expand to Chengdu, or vice versa.
Keith, who said she paid out of pocket for her daughter to go with her, said mid-Peninsula council members often get invites to go to China or other countries.
"People want to learn and emulate what happens here in Silicon Valley," Keith said.
Keith's trip was paid for by the nonprofit U.S.-Asia Innovation Gateway, which receives funding from Colliers International and various China-based firms, according to its website.
'Signing ceremony'
Keith attended what Chinese media described as a "signing ceremony" related to a high-tech partnership in Chengdu. Part of the controversy is whether she signed any documents on behalf of Menlo Park.
Keith said that she did not sign anything at the ceremony. Seigel had also said neither he nor Keith signed anything while in China.
While she was in China, Keith missed a March 27 study session on Facebook's massive Willow Village project. At a May 8 council meeting, Keith said she was getting on a plane while the study session was going on, or she would have called in to participate.
Since the Chengdu trip, Kasperzak said there have been no new developments in establishing HIM Group in the area, adding that he will likely be catching up with the organizers from Chengdu as to any updates on the venture.