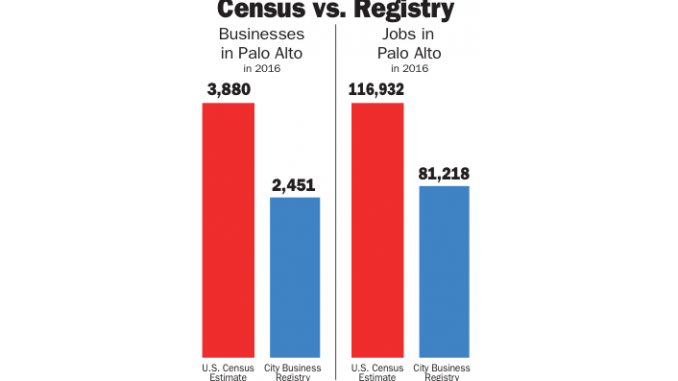 BY EMILY MIBACH
Daily Post Staff Writer
A Palo Alto council committee has agreed to keep the city's Business Registry going despite a report from the city auditor saying it's fraught with inaccurate data and isn't being used by anyone at city hall.
The council's Policy and Services Committee on Tuesday reviewed the devastating audit and told City Manager Jim Keene to see how other cities are using their systems of licensing businesses.
Businesses are required to update their information in the registry each year and pay a $54 fee. But Auditor Harriet Richardson found that the registry understated the number of businesses in Palo Alto and the number of jobs compared to U.S. Census figures. For instance, the registry said that in 2016, there were 81,218 people employed in Palo Alto while the Census Bureau said the figure was 116,932 — a miss of 35,714 employees.
The committee decided to let the registry continue because the city has in January turned over its administration to a contractor called MuniServices LLC, which runs city business licensing programs throughout the country. Previously, the city's Development Services Department had been administering the program.
Nobody at city hall is using the data
But committee chair Adrian Fine said yesterday that another issue with the registry is that no one in city hall uses the registry. So what needs to happen, Fine said, is for the city to figure out who the users of the registry would be, what data they need and if there is another source for the same data.
Councilman Cory Wolbach said the city ought to have a simple business registry where it at least contains information on what businesses are in Palo Alto, how many people work there and how can the city best contact the business if need be.
The business registry arose from a February 2014 memo from four council members to the full council.
"Palo Alto needs a business registry as soon as possible to answer such basic questions as how many people work in Palo Alto and for what types of businesses," said the memo, from council members Marc Berman, Pat Burt, and Larry Klein and Karen Holman.
Data for planning purposes
The council wanted to have data on how many people were working for businesses and how employees commuted to work. The idea was to have that information handy so when development applications came in city planners could see how many people were in a given area during the work day.
Palo Alto was one of the few cities in the region without a business registry or a business license, the council members said at the time. And information gathered through the registry could help the city in tackling two of its top issues: traffic and parking.
In November 2014, the council passed an ordinance to create the business registry. Businesses were first required to sign up in 2015.