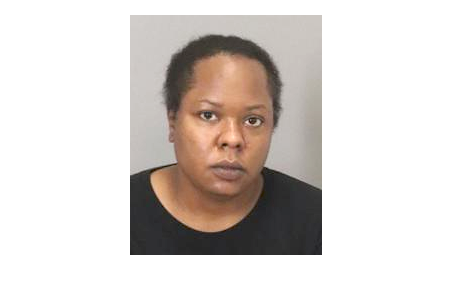 By the Daily Post staff
A 16-year-old girl is hospitalized with major injuries after she was stabbed by a stranger in an unprovoked attack on a crosswalk in downtown Palo Alto this morning (Aug. 18). Her attacker was disarmed and pinned to the ground by two men who were walking nearby, police said.
Kenisha Monique Thomas, 39, of San Jose, was arrested and booked into the Santa Clara County Main Jail for attempted murder and false imprisonment (for preventing the victim from fleeing by getting on top of her), according to police.
At 9:45 a.m., 911 dispatchers received several calls that a stabbing had just occurred on University Avenue at Emerson Street, near Lytton Plaza and Pizza My Heart.
Officers arrived and arrested the suspect, who had been detained and disarmed by two Good Samaritans, men in their 40s, who had seen the attack.
The girl sustained major injuries to her upper body but was conscious and speaking with officers, police said. She was rushed to a hospital, where she is in stable condition.
Police talked to witnesses and determined that the victim was walking westbound on the south side of University Avenue, crossing at Emerson Street. The suspect walked up behind the victim and attacked her with a knife, and pulled her to the ground in the crosswalk, police said.
The suspect then got on top of the victim and continued attacking her, police said. The two Good Samaritans physically intervened, with one of them taking the suspect off the victim. They were able to disarm her and pin her to the ground, while other witnesses assisted the victim, until police arrived.
Police said the victim and suspect were not known to each other, and there had been no prior contact between them before the attack. There is no known motive.
The weapon was a small, hand-held knife with a fixed 2½-inch blade.