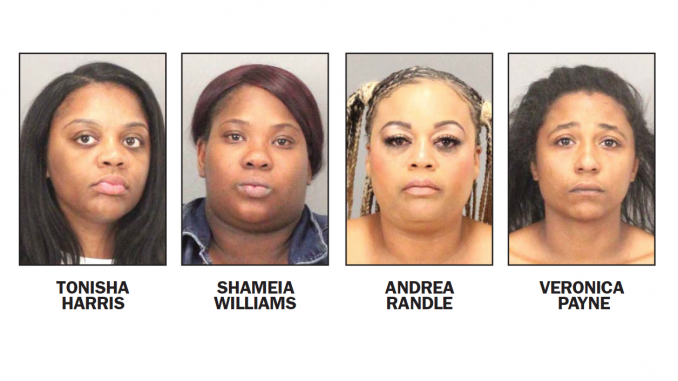 Palo Alto police announced today (July 19) they have arrested four suspects in connection with two separate thefts in the last 10 days at Stanford Shopping Center.
On July 10 at 2:45 p.m., got a call about a theft that had just occurred at Urban Outfitters. An employee saw two women loading numerous articles of clothing into bags and running away from the store. A witness followed the women and was able to get the license plate number of the getaway car.
Through follow up investigation, detectives were able to identify one of the suspects as Tonisha Harris, 26, of Fremont. Detectives arrested Harris in Hayward on Monday (July 16) and booked her into the Santa Clara County Main Jail on charges of felony commercial burglary and a violation of probation. The other suspect has not yet been identified and is outstanding.
On Tuesday (July 17) at about 2:30 p.m., an officer on patrol at the shopping center saw two women taking numerous items of clothing from Victoria's Secret. Both women were taken into custody outside the store without incident, while a third suspect was located and arrested in a nearby parked vehicle.
All three suspects were taken to the Santa Clara County Main Jail.
• Shameia Williams, 31, of Bay Point, was booked on charges of felony commercial burglary, misdemeanor possession of drugs, and a probation violation.
• Andrea Randle, 35, of Antioch was booked on charges of commercial burglary and conspiracy (both felonies) and a misdemeanor warrant out of the San Mateo County Sheriff's Office for shoplifting.
• Veronica Payne, 28, of Antioch was booked for commercial burglary.
Police don't believe the July 10 and July 17 incidents are related.