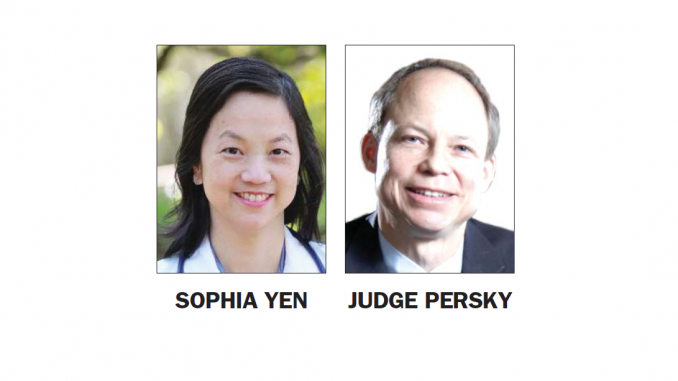 BY ALLISON LEVITSKY
Daily Post Staff Writer
One casualty of the battle to recall Judge Aaron Persky has been a 14-year friendship between his wife and Los Altos physician Sophia Yen, a co-chair of the recall campaign.
The tattered friendship between the two serves as a reminder that the explosive, international headline-grabbing debate about whether Persky should lose his job is taking place in what can seem like a small community.
Persky's wife, who the Post is not naming because of the threats her family has received, said that Yen sent her flowers in the hospital when she had her first son. Both are MIT alumni and sent their children to the same preschool.
In an interview with the Post, Yen even remembered being at a Hillary Clinton presidential campaign event with Persky's wife and recall leader Michele Dauber in 2016, just before the recall effort started. Dauber and Persky have never met.
Yen's family socialized with Persky's regularly until two years ago, when the six-month county jail sentence that Persky gave Stanford sex assailant Brock Turner kicked off international outrage and an effort to remove him from the bench.
"She and I have always been great friends. She is a feminist, and so it was really disappointing and horrific to me that all that came out about her husband," Yen told the Post. "It's horrifi c to find out that the
husband of a good friend of yours has consistently acted against women and victims."
Yen said that while she has socialized with Persky and his wife for years, she doesn't feel like she knows him very well.
"He's always been like a judge: cold, aloof and on the side. We've never connected," Yen said. "He's a quiet, nice guy. Nothing memorable."
On June 7, 2016, Persky's wife invited Yen to a group lunch in San Jose with other friends, "the week right after the firestorm erupted," Persky's wife told the Post in an email.
"Although I was stunned by the violent threats directed at Aaron and our family, I attended the lunch," Persky's wife said. "After lunch, we were walking out together and she told me that she is friends with Michele Dauber. I asked her to tell Dauber that Aaron was just following the law."
The two hugged and Yen said she felt bad about what was happening to their family, Persky's wife said.
In August 2016, Yen emailed Persky's wife and asked if her husband would be willing to resign to save the recall campaign from having to raise $1 million and to spare her family the "humiliation" of having Persky's photo on billboards on Highway 101.
"I have purposely not put out stuff on the Recall Aaron Persky because of our friendship and not signed up for various committees," Yen wrote in an email to Persky's wife on Aug. 23, 2016. "But as a mother of two daughters, you can understand that I support penalizing rapists to the fullest extent of the law. Did you know that the victim was an Asian-American woman?"
Turner was not convicted of rape, but of sexual assault with the intent to commit rape. A jury found him guilty of digitally penetrating an unconscious, intoxicated 23-year-old woman outside a campus fraternity party.
In response to claims that Persky has shown a pattern of bias favoring white men, college athletes and the rich, his supporters have pointed out that Persky's wife is a woman of color and their children are biracial.
Friend pressured Persky's wife
Yen went on to ask Persky's wife if he would be willing to step down.
"Is there any chance that Aaron would consider stepping down? or something? to save the $1 million that they are going to spend trying to get him recalled and the public attention/humiliation that will be for (you) and your family? They are going to buy billboards with Aaron's photo on Highway 101," Yen wrote. "Hoping to make this go away."
Persky's wife responded to Yen's email two days later.
"Thanks for writing. I treasure our friendship and appreciate that you have not put out stuff on the recall or signed up for committees," Persky's wife wrote on Aug. 25, 2016. "As you can understand, I can't comment on the recall. I appreciate your reaching out. Hope you are doing well."
Retired Palo Alto Judge LaDoris Cordell, a vocal supporter of Persky, said Yen's email showed that the recall's plan "right from the start, after the sentencing of Brock Turner in June 2016, was to not only recall the judge but to destroy his family in the process."
Yen said that the recall had "totally destroyed" her friendship with Persky's wife, but that she hoped the two could reconcile.
"It's just very sad, because I think we share the same values, obviously. We can't control our husbands," she said.
'It breaks my heart'
Persky's wife confirmed that the two hadn't spoken since those emails.
"It breaks my heart that she would help the recall campaign raise more than $1 million to recall my husband. She held my children when they were babies," she said. "I thought she was my friend, but then she is now part of the recall campaign that is trying (to) get him recalled for a lawful decision and has been publicly humiliating my husband for the past two years."
Yen said that she never had reason to think Persky was biased against women until the Turner sentence came out in 2016.
After that, the recall campaign found six other cases that they believe show Persky's bias against sexual assault victims and favoring of high-status men, including wealthy, white college athletes.
Persky's supporters have pointed out that of the four criminal cases involving defendants who are supposed to fit this profile, the only white defendant was a plumber and the only college athlete was a black College of San Mateo football player.
A second defendant cited as a college athlete by the recall campaign, Ikaika Gunderson, was a man of Pacific Islander descent from East Palo Alto who hoped to make it onto the University of Hawaii football ball team, but was never recruited. Yen, who has two daughters, speculated that Persky may feel more sympathetic toward men accused of sexual assault or domestic violence because he has two sons and a brother, but no daughters or sisters.
In 2016, the state Commission on Judicial Performance found no evidence of misconduct or bias in Persky's cases.
Persky's wife said her son had been teased at preschool as a result of the recall. Her family has also received threats as a result of the campaign. In November, a San Jose cafe employee took to social media to post a photo of Persky eating alone
and calling for her followers to come and "kick his (butt)."
Persky's wife experienced violence
Persky's wife added that she is a feminist and has survived violence herself, so she empathizes with the woman Turner assaulted.
"I read the viral statement by the very brave woman. I applaud her powerful statement that resonated with people around the world," she said.
Persky's wife said she "totally understands" why Yen and others would be "misled" into supporting the recall, "because the news headlines and the recall campaign's out-of-context social media posts gave a false portrayal of Aaron."
"The firestorm erupted before court transcripts, probation and police reports were made available for news organizations to fact check," Persky's wife said.
"A complex case cannot be reduced to tweets, Facebook posts or short news articles. People who were not present for the entire trial and did not read the probation report or case documents have limited understanding about the case, criminal sentencing and the implications of lifetime sex offender registration."
Both women said they thought there were better ways to support women's rights and prevent violence against women with the money that's been raised on both sides.