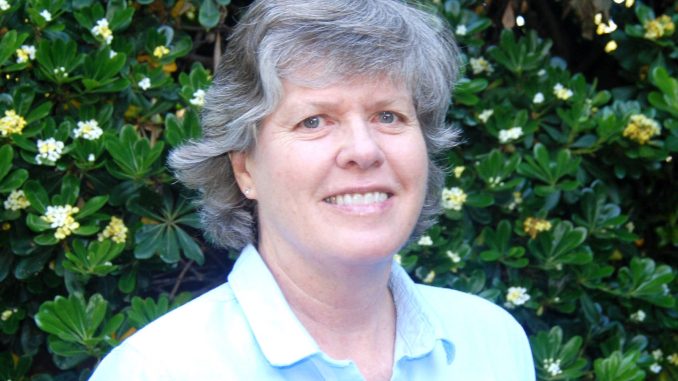 BY ALLISON LEVITSKY
Daily Post Staff Writer
A vocal critic of mistakes by the Palo Alto school district has jumped into the November race for one of two open seats on the school board, she said yesterday (May 3).
Kathy Jordan, 58, said that if elected, she would focus on bringing accountability to a district where mistakes like mishandled sexual assault investigations and fiscal mismanagement have been "swept under the rug."
"That doesn't give anyone an incentive to do the right thing going forward. If people are held to account, I think it keeps everyone on their toes," Jordan told the Post. "With accountability, I think we'll see less of these incidents taking place."
Jordan's older daughter is a recent Palo Alto High School graduate; her other child is still in the district. She has volunteered as a co-parent network coordinator at Paly for four years, co-secretary of the Palo Alto Council of PTAs for four years and volunteered in the schools.
She's served on the district calendar committee and was given an honorary service award from the Duveneck Parent Teacher Association.
Jordan speaks in public comment at most school board meetings and has filed official complaints about several district employees. She's also filed California Public Records Act requests for hundreds of thousands of pages of public documents held by the district.
"I think the root cause of PRA requests is underlying employee misconduct," Jordan said. "If the district would deal with the underlying root cause … there wouldn't be a need to try to file a complaint, or try to make public records requests, but we haven't seen that occur."
A Pennsylvania native, Jordan played tennis professionally from 1979 to 1991 and was the 1983 Australian Open women's singles runner-up.
She earned a bachelor's degree in political science from Stanford in 1991 and was elected vice president of the board of the Women's Tennis Association in 1992.
She worked on Sen. Dianne Feinstein's campaign and in the senator's office in the 1990s. She later worked in project management at a software company and studied business through the Stanford Sloan Master's Program.
"I care deeply about what's going on in the school district. These are our children and these are our taxes. I think we've seen that change is needed," Jordan told the Post. "We've seen fiscal mismanagement where we need fiscal responsibility. We've seen mishandling of sexual assault incidents."