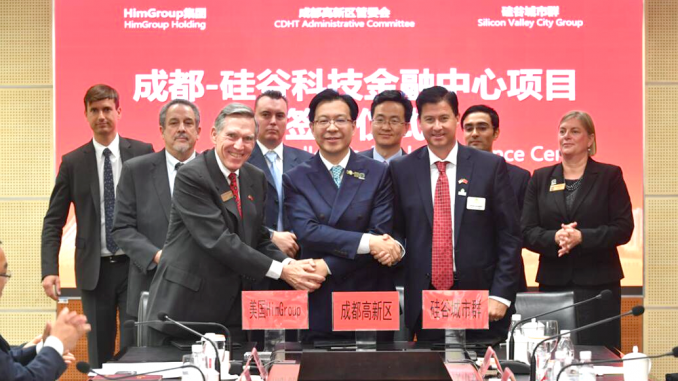 BY EMILY MIBACH
Daily Post Staff Writer
Following Menlo Park Councilwoman Kirsten Keith's controversial trip to China, two of her peers on the council want to review the council's travel policy.
Councilmen Rich Cline and Ray Mueller have asked Mayor Peter Ohtaki to put an item on an upcoming agenda so the council can discuss guidelines for how officials conduct themselves when the trip is paid for by a third party.
Such was the case when Keith visited Chengdu, China March 25-27. She missed a study session on Facebook's massive Willow Village plan to take the trip.
Keith's trip was paid for by the nonprofit U.S.-Asia Innovation Gateway, which receives funding from Huawei, a Chinese phone and networking company, Colliers International and a number of China-based companies, according to its website.
The same nonprofit has funded Councilwoman Catherine Carlton's trips to Korea and China in 2015 and 2016.
The purpose of the ceremony in Chengdu was to sign a proclamation saying that a high-tech committee in that city would be working with a startup incubator for Chinese companies that was being set up by former Mountain View Mayor Mike Kasperzak.
Mueller said now is the time to get on paper what the city's policy is for trips paid for by third parties, especially since "the profile of the city has grown," with Facebook now anchored in the town's east side.
"The goal of this discussion is to define further for all of our city representatives and constituents what constitutes city representation as one considers attending events, travel and/or accepting trips with groups of peer city representatives or other related organizations, and what authorization may be required," Cline wrote in his email to Ohtaki.
'Signing ceremony'
Part of the controversy surrounding Keith's trip to China was whether she or the other local officials on the trip signed any documents on behalf of their cities. Chinese media described the event as a "signing ceremony."
But Mountain View Mayor Lenny Siegel, who also took the trip, said that neither he nor Keith signed anything while they were there. Also present was David Haubert, mayor of the Alameda County city of Dublin.
Chinese media circulated a photo after the event showing Siegel, Haubert and Keith flanked by a handful of Chinese officials.
Following the trip to China, the Post filed a public records request with the city to find out if she signed anything on behalf of the city. Assistant City Clerk Jelena Harada responded in an email that no documents pertaining to the request were found.
Mueller said yesterday that he had not heard when the council discussion will take place.