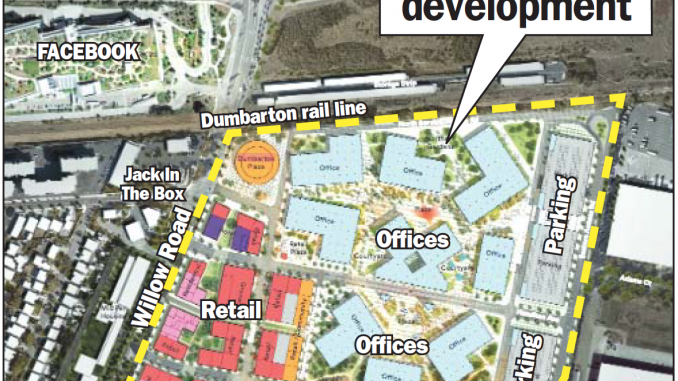 BY EMILY MIBACH
Daily Post Staff Writer
The Sequoia Union High School District is seeking funds from developers, including Facebook, that are rapidly putting up new buildings on Menlo Park's east side.
The district is legally allowed to charge developers for projects adding 500 square feet or more, according to Government Code 65995 and Education Code 17620.
One reason why the district is pushing Menlo Park to help it get some money from all of the development in the area is because the district is building a high school at 150 Jefferson Ave.
The school, called TIDE Academy (Technology, Innovation, Design and Engineering), will serve 400 students at maximum capacity.
Anyone who lives in the district can apply to the school that will cost $60 million to build.
"With development exploding around our TIDE Academy site, the district felt it was critical to establish on the record our need to be kept updated on projects that are being considered near our school sites," Superintendent Mary Streshly said in an email to the Post yesterday (April 9).
Much of the worry from the district stems from Facebook's massive Willow Village project, which includes 1,500 apartments. It is expected to add another 300 students to Menlo-Atherton High School, which is already at its maximum capacity of 2,500 students.
M-A principal Simone Rick-Kennel said at a March 27 council meeting that the campus is completely built out.
With the Facebook Village and other projects in the area, it's likely M-A would have to expand or the district would have to build a new school.
Exactly what Facebook's project would cost the district is unknown right now, Streshly said.
Sequoia is not the only district looking to get some help from Facebook. Ravenswood City School District Superintendent Gloria Hernandez-Goff said district officials are in the process of studying how the village will impact the district's schools.
Facebook spokesman Jamil Walker said the company generates $7 million in taxes for schools, which will only grow with the Willow Campus. He also pointed out that Facebook has donated hundreds of laptops to local nonprofits and school districts, including Ravenswood.