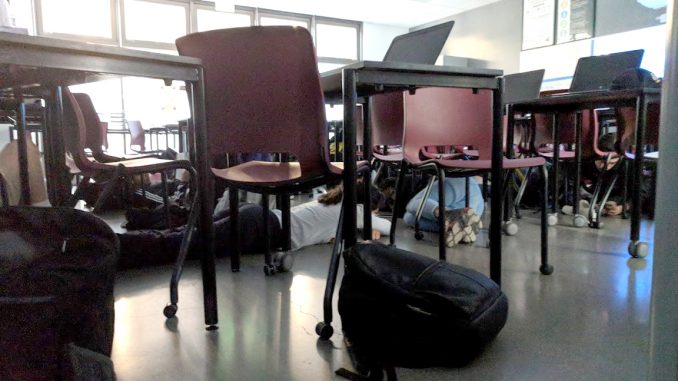 Correction: An earlier version of this story said that the photo was taken in a school bathroom. That's incorrect. The photo was taken at another location off campus.
BY EMILY MIBACH
Daily Post Staff Writer
Nearly 24 hours after shots were fired at Youtube's San Bruno campus, Menlo-Atherton High School went on lockdown yesterday (April 4) because a student posted a picture on Instagram of himself in what looked like the school's bathroom with a gun.
Sophomore Mele Filia said one of her friends showed her the picture on Instagram and they could tell that it had been taken in one of the school's bathrooms and that the kid was holding a gun. Senior class president Ian Peterson said that most of his friends didn't know the student who posted the picture, but students were able to find the post "after we found out during the lockdown that's what triggered it."
Students during the lockdown were panicking and sending texts to others and their parents, according to both Filia and Peterson.
The school had a lockdown drill last month, Filia said, and some people thought the lockdown was just that — a drill.
"The guys started throwing desks towards the door and I jumped up to try to close the curtains," said Filia.
Peterson, who was in his economics class, said as soon as the announcement of the lockdown came over the loud speaker, his teacher moved furniture to make a blockade, and students got on the floor under their desks.
Around 2 p.m. students were released from their classrooms and into class for 5th period, according to the M-A Chronicle, the student newspaper.
However, most kids just went home, according to Nancy Lopez, a student who was waiting to get picked up by her parents.
Lopez said she went to her English class, but only five other students had shown up and some were getting picked up early.
"I was shocked it was real," Lopez said. "It kind of makes me feel unsafe to go to school the next day."
The incident started around 11:30 a.m. yesterday alerting them that the student, a 16-year-old from East Palo Alto, had posted a picture of himself with a gun on Facebook, according to Atherton police.
Police arrived at M-A and a school employee told officers that the restroom in the picture was located in the school, according to police. The teen had recently been expelled from the school.
Atherton police were able to call the teen and interview him at his job in Campbell. The teen told police that the picture was taken weeks ago in a restaurant in Redwood City and not at the high school, police said.
The teen also told police that he did not have a gun and had no intention of harming himself or others.
The lockdown comes a day after Nasim Aghdam shot and wounded three people at YouTube's San Bruno headquarters before killing herself.
M-A isn't the only mid-Peninsula school that has had a lockdown over threats of a shooting.
On Thursday, Palo Alto High School was locked down for nearly three hours after someone called the police threatening to shoot up the school. Police determined the call was a hoax.
Police determined that the call was made from a cellphone that belonged to an adult with no connection to Paly. It had been either lost or stolen at Town and Country Village Shopping Center, and the call had been placed by someone other than the phone's owner.