Students at Gunn High School in Palo Alto and their supporters teamed up with a widely known activist organization to call for national gun law reform at a protest near their campus this morning.
The protest began at 7:30 a.m. in front of the school bus stop at Gunn High School, located at 780 Arastradero Road, and involved about 150 people, according to Raging Grannies spokeswoman Ruth Robertson.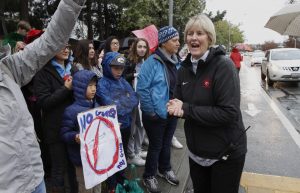 The Raging Grannies, an organization that was founded in British Columbia in the late 1980s and established the San Francisco Peninsula chapter just before Sept. 11, 2001, found out about the protest just 36 hours beforehand, Robertson said.
The Raging Grannies knew they wanted to help, so they started to put together a game plan of how to get as many members there as they could and selected which chants and songs to use, Robertson said.
The five present Raging Grannies changed the words to one song, set to the beat of the nursery song Frere Jacques, which was inspired by students, according to the spokeswoman. "We call BS, we call BS, on DC, on DC," the song rang out. "Congress doing nothing, Congress doing nothing, gun safety, gun safety."
The grannies also led chants of "No more silence, end gun violence" and "Hey, hey, ho, ho, the NRA has got to go." Robertson said protesters were spread all down the sidewalk, which made chants hard to coordinate, but everyone present was ready and willing to pitch in for the volume.
"We passed out lyrics and the kids loved it," Robertson said.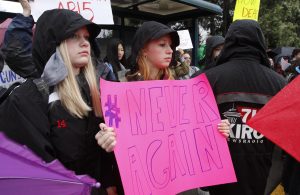 Robertson said that many of the women in the Raging Grannies organization were teachers at one time, so the group has always stood behind the protection of students and staff, particularly in the wake of the latest deadly school shooting in Florida earlier this month that has President Trump expressing support for arming teachers in schools.
"Trump's ridiculous proposal that teachers be armed is just beyond the pale," Robertson said. The San Jose gaggle of the Raging Grannies is currently in the works with city leaders to try and get gun safety legislation passed, according to Robertson. Robertson said the big day for the cause will be March 24, when the March for Our Lives nationwide protest will take place locally in both San Jose and San Francisco.
Robertson said the group learned of the Gunn High School protest from the Facebook event page set up by student Elizabeth Salwitz titled "#NeverAgain Gunn High School."
The description of the event reads, "Come join your fellow students in saying 'never again' to mass shootings and limited gun control. This is an issue that affects everyone, and it is up to us, the next generation of voters, to take action." According to Robertson, there were no opposing protesters and the efforts continued past the high school's 8:25 a.m. start. — Bay City News