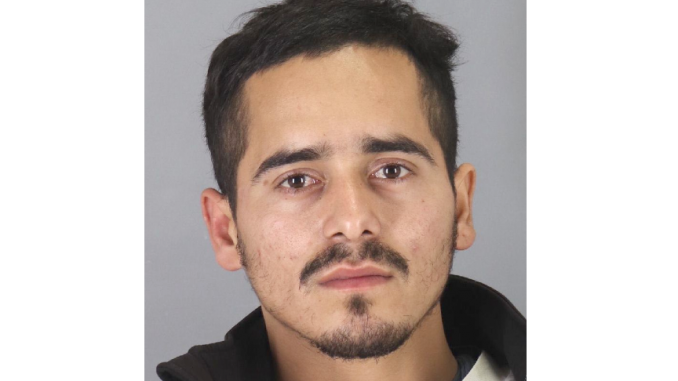 BY EMILY MIBACH
Daily Post Staff Writer
A man accused of stealing a school bus and crashing it in Redwood City was released from jail on $0 bail and now has allegedly stolen a truck and crashed it at Gunn High School in Palo Alto.
Miguel Santos Murillo-Cuellas, 23, of Redwood City, was released along with thousands of other inmates when the California Judicial Commission last week reduced bail to $0 for many crimes in order to clear out the jails to reduce the spread of the COVID-19 virus.
The latest chapter in this story began at 4 a.m. Sunday when police responded to a report of a truck stuck on the train tracks that run along Chestnut Street, according to Redwood City Police.
The white Ford pickup was unoccupied, but had its engine running and was still in gear. On the truck was the logo for All Fence Company.
Police went to All Fence Company on Spring Street and found that a truck had been driven into a fence, where it then got stuck, and another truck with extensive front-end damage near a dumpster that was damaged.
At around 5 a.m., a pedestrian spotted an All Fence Co. truck speeding down a 25 mph zone with wires trailing behind it, said District Attorney Steve Wagstaffe.
At 7:15 p.m., Palo Alto police officers found the truck crashed into a fence with the engine running and wipers going on the Gunn High School baseball field. Officers found Murillo-Cuellas nearby in the school yard.
Murillo-Cuellas told officers that he had been drinking and used meth and marijuana, according to Wagstaffe. A Breathalyzer test detected no alcohol, however.
Murillo-Cuellas is facing six felonies and four misdemeanors relating to his wild ride Sunday morning.
Prior to getting his bail dropped down to $1, he had been in jail for stealing a school bus on March 28.
Murillo-Cuellas had broken into the Sequoia Union School District's bus storage lot at 1090 Mills Way in Redwood City, and after crashing a car in the lot, he stole the bus, the DA said.
Murillo-Cuellas was spotted ramming cars with the school bus on Woodside Road between Spring Street and Massachusetts Avenue, police said. He drove the bus 3 miles to Woodside Plaza before smashing into a PG&E transformer.
He faces two felonies and eight misdemeanor charges for that theft. Murillo-Cuellas is now in jail in lieu of $1 million.