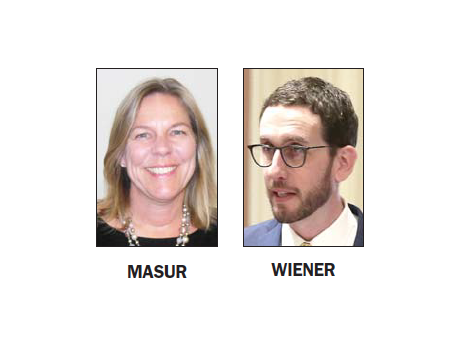 BY EMILY MIBACH
Daily Post Staff Writer
Scott Wiener, the San Francisco state senator who is behind controversial Senate Bill 50 that would pre-empt local zoning near transit and jobs, has thrown his support behind Redwood City Councilwoman Shelly Masur, who is running to replace termed-out Sen. Jerry Hill.
Masur is running to join Wiener in the state senate in hopes to represent Senate District 13, which stretches from South San Francisco to Sunnyvale. She is facing four opponents in the race — former Assemblywoman Sally Lieber, Burlingame Mayor Michael Brownrigg, Menlo Park resident and entrepreneur Josh Becker and Millbrae councilwoman Annie Oliva.
Wanted changes to SB50
Masur, along with Lieber, told the Post in a recent questionnaire that they would support SB50 if a few amendments were made.
Masur listed two amendments for SB50:
• give cities a period of time to develop their own transit-oriented development plan that meets the goals of SB50, and if cities don't make a plan, then SB50 would automatically apply.
• And to change the exemption for counties with a population under 600,000. Weiner had amended the bill so it would only apply to counties over 600,000, meaning it would only apply to 15 out of the state's 58 counties.
Sen. Mike McGuire, D-Healdsburg, demanded the exemption in return for his vote at the committee level. The exemption means the counties he represents would not have to abide by SB50.
Masur's housing record
Masur sits on the Redwood City Council, which has approved over 4,000 homes in the last eight years.
Many of these homes have been in the city's downtown, which is near transit, which matches what Wiener is attempting to accomplish in cities across the state with SB50.
"Shelly Masur is a proven leader on the key issues facing California. During these difficult times, we need strong, experienced, and principled leadership, and I know Shelly will make the community proud." Wiener said in a statement endorsing Masur.
This is the second high-profile endorsement in the race, with Becker receiving the endorsement of Gov. Gavin Newsom in June.
School board experience
Masur was elected to council in 2015. She's the CEO of Californians Dedicated to Education Foundation, a nonprofit that helps fund programs at public schools. Prior to joining the council, Masur was on the Redwood City school board for 10 years.
The top two vote-getters in the March primary will go onto the November 2020 general election.