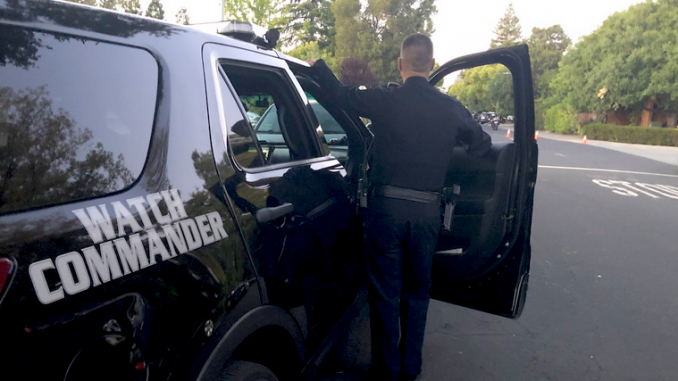 Saturday, 9:50 p.m. — Police said they have taken the man who was barricaded inside a house on Tennessee Lane to a hospital. Police said they will book him into jail tomorrow (Sunday) and will release more information after that.
Saturday, 2:44 p.m. — Police just announced that they have arrested the man who had barricaded himself inside a house on Tennessee Lane following a domestic violence incident, ending a 29-hour standoff.
Police said they recovered his handgun.
Police offered no details about the man's arrest other than to say he's being booked at the Main Jail in San Jose. Police said they'll release more information later today.
Saturday, 9 a.m. — Palo Alto police say the man who has refused to leave a home after a domestic violence incident communicated with officers intermittently through the night, but the standoff continues this morning.
"This morning, we remain at the scene on Tennessee Lane and are continuing our efforts to get the suspect to surrender," police said on Twiter. "He has had intermittent verbal contact with us throughout the night, but has still refused to exit."
Police said they will provide updates at www.twitter.com/PaloAltoPolice.
Friday, 11 p.m. — An armed man barricaded himself in a home near Robles Park in Palo Alto on Friday (Aug. 2) following a domestic violence incident, leading to an all-day standoff with police that continued at the Post's press deadline Friday night, according to authorities.
Around 10 a.m. on Friday, officers were called to a home on the 300 block of Tennessee Lane, off Wilkie Way, to respond to a domestic violence situation, according to police.
The victim, a woman, got out of the house and was safe with police, who did not say whether she suffered from any injuries.
Police believe that the suspect, a man who lives at the house, has a handgun. The man was the only person left in the house, police said.
The police department's crisis negotiation and SWAT teams were on scene, along with patrol officers.
"Our goal in any case like this is to safely negotiate the surrender of the suspect, and to avoid/minimize injury to either the suspect or our personnel," a tweet from the department said.
By 10 p.m. Friday, 12 hours after the initial call to the house, the standoff was still underway.
"We continue to be at the scene and will keep it secure throughout the night," the department posted on Twitter around 9 p.m.
Last Aug. 9, the Redwood City police engaged in a similar domestic violence-related standoff that ended after nearly 18 hours.