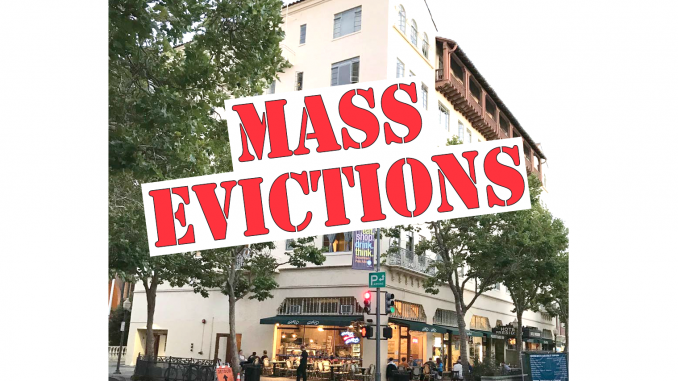 BY ALLISON LEVITSKY
Daily Post Staff Writer
With three months left until the residents of the 75-unit Hotel President apartments are evicted to make way for a boutique hotel, Palo Alto City Council is set to consider an ordinance that could offer some help to victims of mass evictions.
Remarking that renter protection was "obviously an issue that has risen anew in town recently," City Manager Jim Keene said that the city was working on an ordinance that would offer "levels of assistance" to the evicted tenants of large apartment buildings that are being taken off the rental housing market.
"We are hurrying to get this done," Keene said. "It is our hope that this ordinance may help, certainly, soften the blow."
Keene said he was hoping to bring the ordinance to the Aug. 27 council meeting.
Money for evicted tenants
Under the Ellis Act, the city can enact "reasonable mitigation" when a property owner chooses to go out of the rental business and evicts a building's tenants, City Attorney Molly Stump said.
Next month, council will consider a memo proposing renter protections from council members Cory Wolbach, Tom DuBois, Lydia Kou and Karen Holman.
The four are proposing to impose stronger penalties for landlords who don't offer yearlong leases and require relocation benefits for displaced tenants.
Palo Alto currently requires landlords offer a yearlong lease to tenants and give two months' notice before a large rent increase at multifamily rental units.
Landlords are also prevented from requiring that fewer than two people per bedroom live in a unit.
$65 million transaction
The Hotel President, a 1929 hotel-turned-apartment-building at 488 University Ave., was sold for $65 million in June to Adventurous Journeys Capital Partners, also known as AJ Capital Partners, a Chicago-based hotel company that restores historic hotels in college towns under the "Graduate Hotel" chain.
The building's tenants, who each pay about $2,000 a month for a small studio, were offered $3,000 in relocation assistance from the buyer and given until November to move out.
Several of the building's tenants showed up at council last night to thank the city for its efforts and urging council to save their homes.
'Grandfathering laws'
Last month, Assistant Planning Director Jonathan Lait sent a letter to AJ Capital President Timothy Franzen, stating that his plans to convert the building to a hotel violated the city's "grandfathering laws," in which a building that's too tall or dense to be built under the current code can't be converted to a new use.
Franzen wrote back and said he "disagreed" with that assessment, then sent a letter to tenants telling them they should still plan to move out Nov. 12.
Last night, Stump said that the city had responded to Franzen and asked him to be more specific and is now waiting to hear back.
John Vermes, 61, called the President "a haven of sorts, as a community" and that its residents could "ill afford to leave."
Foreign investors
"AJ Capital is in a position to potentially sit on the President doing nothing for an extended period of time," Vermes said. "They are acquiring a portfolio of buildings for not only the purpose of building the so-called Graduate Hotels, but simply to create an asset base for their limited partners, many of whom are from overseas."
Karen Kao, a 58-year-old county health inspector and physical therapist who has lived at the President for 14 years, evoked Martin Luther King Jr.'s "I Have a Dream" speech in calling out for better housing options for middle-income residents.
Previous Post stories about the Hotel President
• June 12: Hotel President to be sold, will become a hotel again
• June 14: Hotel President tenants to face eviction
• June 16: City Council members met privately with Hotel President buyers before sale closed
• June 20: Hotel President tenants ask for city help
• July 19: City blocks conversion of Hotel President, tenants catch a break
• July 22: New owners of Hotel President to fight city's determination that the building can't become a hotel again