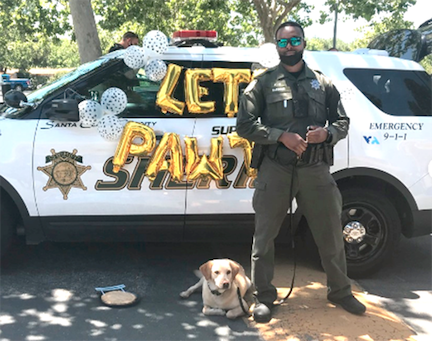 BY BRADEN CARTWRIGHT
Daily Post Staff Writer
Santa Clara County has settled a lawsuit with a woman who was bit by a police dog at a sheriff's deputy's house, court records show.
The dog, named Titan, allegedly bit Lila Abreo's leg and wouldn't let go, fracturing her bone and ripping muscles and tissue below her right knee.
Abreo sued the county and sheriff's deputy Marcus Barbour, a former Palo Alto police officer who had Titan at his home.
Barbour didn't have the proper training yet, and the county shouldn't have allowed him to take Titan home, according to the lawsuit filed in May 2022.
Abreo and the county agreed on a settlement in August, and the Santa Clara County Board of Supervisors reviewed the case in a closed session last week.
The agreement hasn't been signed yet, so the amount of money that Abreo will receive isn't public, a county representative said in an email.
Abreo, 32, went to a baby shower at a friend's house in Morgan Hill on June 5, 2021, the suit says.
Barbour was also a guest, and he invited Abreo and her family to keep socializing at his home in Hollister afterwards.
There was drinking at the baby shower, and Barbour kept serving drinks at his house, the suit says.
Barbour, Abreo and a few other guest were hanging out in Barbour's garage, where a young dog was inside an unlocked crate with toys nearby, the suit says.
Abreo, a dog owner herself, says she admired the dog and asked to play
with it. She put her hand over the top of the crate, and the dog licked at it, the suit says.
"I guess he likes you," Barbour allegedly said.
Abreo played fetch with the dog while Barbour talked to other guests. She then asked Titan to sit, and the dog bit her "deeply," the suit says.
Abreo "went down immediately," her attorney Veronika Short wrote in the lawsuit.
"Barbour looked frightened and shocked and did not appear to know what to do," Short wrote. "He had no voice control over the dog."
Barbour had to choke Titan to force the dog to release Abreo's leg, the suit says.
At the time, Titan was slated for patrol work, including handler protection and suspect apprehension, the suit says. But the dog had minimal training, including "bite work," and was not cleared to perform police functions, the suit says.
Barbour only had experience with an explosive detection dog — "a very different animal," the suit says.
"Santa Clara County's negligent, careless, reckless and ineffective hiring, training and supervision of Barbour … foreseeably resulted in an attack by Titan," the suit says.
Barbour was in the news in 2019 and 2020. Capt. Zach Perron, who is white, allegedly joked that "n****s don't swim" after Barbour, who is black, jumped into San Francisquito Creek to save a drowning black felon he was chasing in January 2014.
Barbour left the Palo Alto Police Department for Santa Clara County in 2017.
He is the vice president of the deputy sheriffs' union and was promoted to sergeant last year, according to pay records.