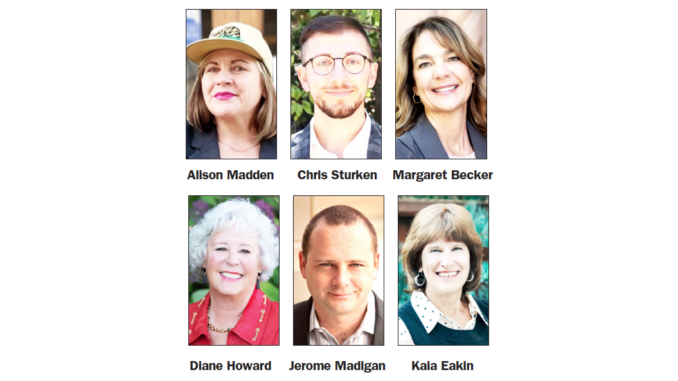 BY EMILY MIBACH
Daily Post Staff Writer
Some Redwood City residents will vote for new council members in next month's election who will have to deal with problems like the county's largest homeless population and the ever present demand for housing.
Information released earlier this year from the county says there are some 245 people living in RVs, on the streets or in shelters, the highest in the county. Fires have also occurred at encampments, emitting plumes of smoke that can be seen around town.
There are three candidates running for District 2 seat, which spans from Bair Island to past Sequoia High School District 2, including the Centennial and the Mount Carmel neighborhoods – Alison Madden, Chris Sturken and Margaret Becker.
Margaret Becker, 57, is a longtime volunteer in town and has been on the city's Housing and Human Concerns Committee for six years. She says her innovation and leadership has led to a variety of city ordinances such as requiring landlords offer minimum lease terms to tenants, landlords and developers paying residents to relocate and the Safe RV Parking lot, among many other things. She says her top priority if elected is to "balance our city's growth with the services, infrastructure and aesthetic considerations that are vital in our city for all residents." She says the city needs "thoughtful collaborative growth."
Regarding homelessness, Becker gave high marks to the city for its various programs and its plans for upping city employees who reach out to homeless folks from 2.5 full time employees to 9.5. She says now is not the time to change the city's path in addressing homelessness, but to work with the county and support current efforts.
Becker's endorsers include Supervisors Don Horsley, David Canepa, Councilwomen Diane Howard and Diana Reddy and former mayors Ian Bain and Barbara Pierce.
Alison Madden, 58, is an attorney who was a resident of Docktown, the community of floating homes along the Redwood Creek. She led a lawsuit against the city regarding the closure of the boat community.
Her law license was suspended from 2019 to earlier this year due to a DUI conviction. She that in part, she entered the race to ensure there is a competition. She ran in the race to replace Assemblyman Kevin Mullin in Sacramento, coming in fifth.
Her top priority if elected would be housing at every level of income. "There is no trickle down housing," she said. Madden has a handful of ideas to bring different types of housing to town. This includes using a lot near Docktown for tiny homes, keeping the RV lots and putting housing at the port are all ideas Madden supports.
Regarding homelessness, Madden says instead of looking to close the Safe RV lot, the city ought to open more. She says there is no organized outreach to the people who live along and under Highway 101, and calls for more interaction with the city's homeless residents but also with the county.
Madden has not asked for individual endorsements in the race.
Chris Sturken, 28, is an events coordinator at HIP Housing, a nonprofit. He was appointed to the city's Planning Commission in June and before that was on the city's transportation committee. He says he drew on his experiences as a public transit rider to evaluate and promote solutions to reduce traffic and make streets safer for bicyclists, pedestrians and drivers.
His top priorities include maintaining a safe and vibrant downtown, ending homelessness and creating more affordable housing.
Regarding homelessness, Sturken says while the city has taken great steps to address the issue, more needs to be done, he wants to expand the city's Anti-Displacement Strategy and support further partnerships with other entities and nonprofits. He also points out that it is cheaper and easier to keep people housed than it is to find them housing.
Sturken boasts the endorsements of the county democratic party, labor council, Congresswoman Anna Eshoo, Assemblymen Kevin Mullin and Marc Berman, Mayor Giselle Hale and current council members Elmer Martinez, Jeff Gee and Alicia Aguirre.
District 6 council race
The other competitive race is for District 6, which encompasses the Red Morton Community Center, Woodside Plaza neighborhood and part of the Roosevelt neighborhood. In that race, longtime incumbent Diane Howard is running against minister Jerome Madigan.
Jerome Madigan, 43, is a minister in San Carlos and a realtor. He says he is running because neighbors in his district asked him to. He noted that through his work he has over 25 years walking the streets to reach out to people. Meanwhile, some residents have commented to him that some of the longtime council members aren'y as in touch with what is happening day to day.
His stop goals include improving public safety in town, reducing homelessness and balancing the city's budget.
Madigan said the city has excellent resources to handle homelessness in town, but thinks there could be better coordination between all of the different groups that try to help. That could save money and time for the city and nonprofits, Madigan said. But, Madigan says he sees one big piece missing from the homelessness response in Redwood City, which is a focus on addiction recovery.
Madigan boasts endorsements from Millbrae Councilwoman Annie Oliva, San Carlos Councilman Ron Collins, former Redwood City Police Officer and Vice Chair of the county's Behavioral health commission, Chris Rasmussen and local business owners Vicky Costanini and Travis Conte.
Diane Howard, 72, is a longtime councilwoman, serving from 1994-2009 and was re-elected in 2013. She's lived in Redwood City for 41 years and lists recent council highlights as raising the city's minimum wage, spending $4.8 million on services to help the homeless, and working with other nonprofits to deliver meals to residents and funding small businesses during the pandemic to help them stay open. She plans to continue championing bringing ferry service to the Port.
She points out that even if re-elected, the council will have three new council members, including recently appointed Elmer Martinez after Councilman Michael Smith resigned to care for an ailing family member on the east coast.
"The learning curve is steeper than most realize. It is not just showing up for a Monday night meeting," Howard said, pointing out council members spend 20-30 hours a week on the job.
Her goals if re-elected include maintaining staff levels for the city's public safety departments, increase housing supply while preserving neighborhood character and expanding the city's recycled water program.
Regarding homelessness, Howard touts her and the council's track of approving $4.8 million to support programs that help those experiencing homelessness. That money has gone to funding hotel conversions, helping nonprofits with outreach and various programs the city runs.
Howard has a number of endorsements, including those of Congresswomen Anna Eshoo and Jackie Speier, state Sen. Josh Becker, Assemblyman Kevin Mullin, Vice Mayor Diana Reddy and Sheriff Carlos Bolanos.
District 5
Only one candidate filed to run for District 5 — Kaia Eakin, a former workers compensation attorney. She grew up on the Peninsula and had volunteered in various capacities in the city, most recently with the San Mateo County History Museum. District 5 covers portions of the Palm Park and Redwood Oaks neighborhoods, and runs along Woodside Road from Five Points, ending just before Woodside Plaza.