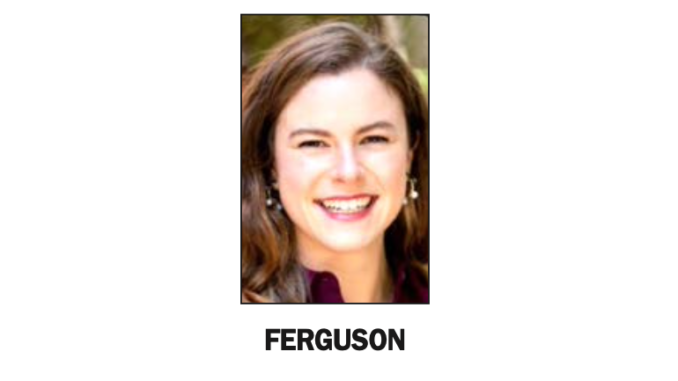 This story was first printed in Friday's Daily Post. Catch up on all of the local news by picking up the Post in the mornings at 1,000 Mid-Peninsula Locations.
Daily Post Staff Writer
A former employee of Assemblyman Marc Berman said she was sexually harassed at Berman's Los Altos district office in 2019, and Berman's chief of staff did nothing when she complained.
The employee, Ruth Ferguson, said that Berman denied her a promised raise because she reported the harassment.
Her allegations were detailed in an op-ed she wrote for the San Francisco Chronicle yesterday. Investigators for the Legislature said her claims were unsubstantiated, but she's questioning their investigation.
Ferguson, 27, said that Berman's district director Zachery Ross harassed her soon after she joined Berman's office as a field representative in March 2019.
Ferguson said Ross told her to view the office as a group of friends rather than co-workers, because they spent long days and often weekends together. The district office has four full-time employees, and Ross was their supervisor.
Ferguson said Ross flirted with other women, and he often commented on the attractiveness of women in the office and in the Legislature. He ranked their bodies on a scale of one to 10, Ferguson said.
Ferguson said Ross told other coworkers that she was sexually attracted to men when she was friendly to them.
Ferguson also said Ross treated her and another subordinate female employee differently because the other employee was single.
He paid for her lunches and ate out of her dish like they were on a date, Ferguson said. He touched her arms, hands and hair, she said.
"In one instance, she asked him to unknot part of her necklace that dangled off the chain," Ferguson wrote. "I watched as he pinned her up against his desk, in between his legs, and worked on the necklace for minutes while it lay on her chest."
Ferguson said she asked Ross why her colleague was treated more favorably, and Ross said it was because the other woman "did not have a husband to care for her."
Ferguson got married in May 2019.
Women felt degraded
'"My supervisor reduced me and the other professional women in our proximity to our sexual appeal and availability," Ferguson wrote. "It was clear to me through this behavior that for women to advance in the office, we'd need to at least tolerate these exploits, if not play along."
Ferguson reported Ross in July 2019 to Berman's chief of staff, Harry Ermoian.
"I poured out what I had been holding in: the behavior, the discomfort, my confusion, pain and shame — as well as similar stories our interns had shared with me."
Ferguson said Ermoian told her it sounded like "cliqueness" instead of harassment, and that he'd need to ask Ross about the allegations.
Ferguson said she begged Ermoian not to tell Ross, and he finally agreed to escalate the complaint to Berman and an Assembly human resource consultant.
It's unclear how much Berman knew about the allegations, and his office said he wasn't available for an interview yesterday.
"I deeply regret that Ms. Ferguson had a negative experience working in my office," he said in a statement.
Ferguson said she was grateful she told Ermoian because the state had recently created a "Workplace Conduct Unit" to investigate complaints like hers. The unit requires supervisors to report sexual harassment, and the investigation is supposed to be independent.
The unit was created during the #MeToo movement when legislators and their employees were facing allegations of sexual harassment.
But Ferguson said the complaint didn't go anywhere, and she never heard from the Workplace Conduct Unit. While she waited for over a year, she said Berman's office retaliated against her.
Retaliation alleged
Ferguson said when she started, Berman made a promise: take a low wage now, and she would get a "significant raise" after one year if she performed well.
But Ferguson said she never got the raise, and instead received her first critical review in 2020.
"Responsibilities for which I had been complimented on just days earlier were swiftly taken away," she said.
When she asked about the slights over email, she said Ermoian would only agree to an in-person meeting with himself and an HR consultant.
Ferguson said Ermoian canceled the meeting after she told him she would bring her father-in-law lawyer to observe.
Seeing retaliation, Ferguson finally called the Workplace Conduct Unit herself. She first asked questions anonymously, and then an investigator called her and said there had been an anonymous complaint and asked for her story.
Ferguson met with investigators in the Workplace Conduct Unit for 12 hours in one day. She said she showed them notes, text messages and photos that showed Ross's behavior.
"My case wasn't an example of what is often discounted as merely 'he said/she said,'" Ferguson wrote.
Year-long investigation
During the investigation, which took another year, Ferguson said she laid low. She smiled around the office but cried on her way home from work.
Ferguson said she was diagnosed with post-traumatic stress disorder on top of "debilitating depression." She qualified for medical leave in October 2020.
Almost two years after Ferguson first reported the harassment, she received a letter from Assembly Speaker Anthony Rendon stating that the Legislature could not substantiate her allegations.
Ferguson said she wasn't allowed to see the report because of attorney-client privilege.
Ferguson said she then complained to the Department of Fair Employment and Housing in May 2021 so she could pursue a case in court. She said she has until May 21 of this year to sue, but she doesn't intend to do so.
Ferguson finds she's the one accused
It didn't stop there, though. The Workplace Conduct Unit then told Ferguson that she was now the one under investigation. Ferguson said her allegations were reversed on herself, and investigators were looking into whether she said she was sexually attracted to a pastor she whom she worked.
Ferguson said the Workplace Conduct Unit was helping Berman's office retaliate and punishing her for coming forward.
"The intensity of the betrayal and the undeserved shame I felt throughout this process has been all-consuming," she said. "I hadn't previously understood how devastated and scared how I could feel."
Ferguson said she isn't the only one. She said she heard from other women that the Workplace Conduct Unit did nothing in their cases, and the state's #MeToo reckoning failed, she said.
Now a graduate student studying public policy at UC-Berkeley, Ferguson said she has lobbied legislators to fix the system.
Ferguson wants the public to have access to the Legislature's misconduct records. She said lawmakers should amend a 1975 state law that keeps the records private. They've passed similar laws that have day-lighted serious police misconduct records.