What do you do when you have a world-class CLIA- certified laboratory in Menlo Park, Calif. and a once-in-a- generation pandemic impacts the world?
For Avellino Labs (Avellino), the answer was simple: You pivot your company focus to support Covid-19 efforts.
With SARS-CoV-2 virus detected in the United States in January 2020 the Avellino team sprang into action, developing a Covid-19 test from the ground up and converting their laboratory so they could process test samples. The test is named AvellinoCoV2 and it received FDA EUA in March 2020.
"The team did an incredible job developing the AvellinoCoV2 RT-PCR test and to date we have performed more than 2.8 million tests," says Avellino Chief Scientific Officer Nazneen Aziz, PhD. "We were the first private, independent company in the US to receive an EUA for a Covid-19 test, which reflects the talents and dedication
of the team. It is very gratifying to be able to support the urgent need for testing and directly contribute to ongoing public health efforts."
In addition to providing tests nationally for a variety of organizations, Avellino hosts three drive-through testing sites in the greater Bay and Peninsula area, including its newest site in Menlo Park, Calif. Appointments are not required at any of these sites.
The site opened in late January 2022 in the parking lot of Avellino's headquarters and all samples are sent direct to their laboratory for analysis. The site is located at 4300 Bohannon Dr., Menlo Park, Calif. and is open from 9:00 a.m. – 5:30 p.m., seven days a week.
The site in San Jose is at 6389 San Ignacio Ave. and also operates 9:00 a.m. – 5:30 p.m., seven days a week.
The Cupertino site is located at 10855 N. Stelling Rd. and operates 9:00 a.m. – 5:30 p.m. Monday through Saturday (closed Sundays).
In addition to AvellinoCoV2, Avellino also developed AvellinoCoV2 – Respiratory, a multi-panel PCR test that detects the presence of four viral infections in one patient sample with high sensitivity: Covid-19, influenza A, influenza B, and respiratory syncytial virus (RSV).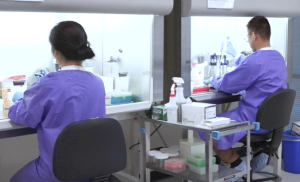 "The AvellinoCoV2 – Respiratory test supports the Centers for Disease Control and Prevention's notice last June to expand RSV testing, as well as the need to test for both COVID-19 and influenza, which is important with the emergence of 'flurona'. With accurate and early diagnosis medical care professionals can make appropriate patient management decisions and better manage medical resources."
In addition to its Covid-19 tests, Avellino also makes AvaGenTM, a genetic test that detects a type of genetic eye disease called keratoconus. Keratoconus causes changes in the structure of the cornea into a cone shape and can greatly compromise vision if not properly treated. When the condition is detected early or before the first physical signs appear, there is a greater chance of protecting against vision loss.
You can learn more about Avellino at www.avellino.com.