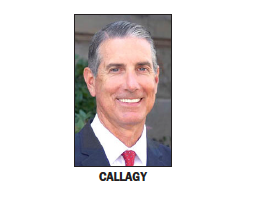 BY EMILY MIBACH
Daily Post Staff Writer
San Mateo County Manager Mike Callagy says he's hiring an outside investigator to look into why $7 million of county-purchased personal protective equipment, or PPE, was damaged in the rain at the San Mateo Event Center.
ABC7 reported Thursday that boxes upon boxes of PPE, including gowns, cleaning supplies and face shields had been stored outside at the Event Center since September. The storms in October first damaged the PPE, which were then left at the Event Center.
Callagy and Supervisor David Canepa both told ABC7 reporter Dan Noyes that they first heard about the damaged PPE from his news story.
Callagy stressed that none of the county's supply of masks or gloves was damaged, and are stored separately, and indoors.
The supplies had been purchased early in the pandemic when there was a scramble for any suitable supplies since it was unknown how long supply shortages would last, Callagy said.
The county had been working with the California Office of Emergency Services to offer these unused supplies to health care agencies, schools and other agencies, including states, but only a few things were accepted. In mid-September, the equipment was moved outside to a fenced area due to immediate needs for the space. However, the items never were moved back inside and storage space was not available elsewhere in the county government, according to Callagy.
The county is inspecting and cleaning salvageable materials in order to donate to a nonprofit.
Callagy said county officials "deeply regret that this occurred and are hiring an external investigator to identify all the facts related to the damage and make recommendations to avoid future incidents."
Supervisor Canepa wants to see someone held accountable.
"We need to find out who is responsible, even if that means a termination because of the severity," Canepa said. "This is truly embarrassing when the county's done such an incredible job otherwise with the pandemic."
The Event Center, on Saratoga Drive in San Mateo, has been used for a number of Covid-related endeavors. In April 2020, it was set up to serve as a temporary hospital to handle an expected overflow of patients from other hospitals. But it was never used. Beds set up at the hospital were removed and sent to county hospitals.
The Event Center has also been the site of numerous testing and vaccination events.
In November, the county hosted a vaccination clinic to give a spoonful of sugar to children ages 5 to 11 getting their Covid vaccine.
Aside from Covid-related events, the Event Center has hosted a few conferences during the pandemic and even jury selection for San Mateo County Superior Court.