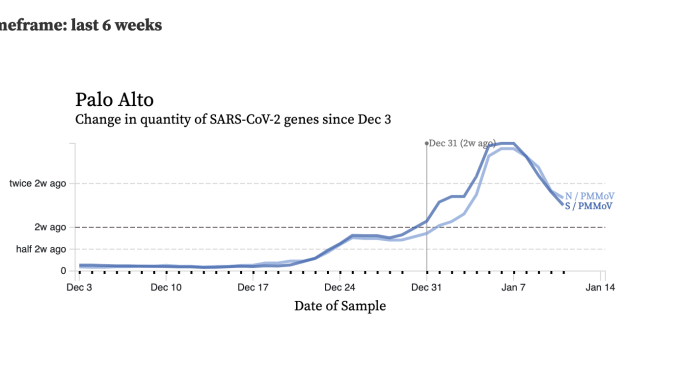 By the Daily Post staff
Tests on sewage in Palo Alto and Santa Clara County show Covid infections spiked last week and are now dropping.
The test results are in contrast to comments Public Health chief Dr. Sara Cody made to the county Board of Supervisors on Tuesday, Jan. 11. Instead of acknowledging the drop, which started two days earlier, she warned the supervisors of a "dramatic and really breathtaking explosion of cases." Cody did acknowledge the drop in remarks on Friday, Jan. 14.
The county measures the quantity of Covid genes in sewage at treatment plans in Palo Alto, San Jose, Sunnyvale and Gilroy (see graphics). At the four locations, the highest levels of Covid since Dec. 3 were detected on Jan. 7. Since then, the levels have been dropping.
Scientists have said that nearly all of the new Covid cases are from the Omicron variant, which produces either mild or unnoticeable symptoms but spreads faster than previous mutations. Doctors in South Africa, where Omicron was first detected, and the U.K. have found that the variant is short-lived.
Other benchmarks, such as positive test rates and hospitalizations, are considered lagging indicators because they show the extent of the variant days ago, but not at the moment.