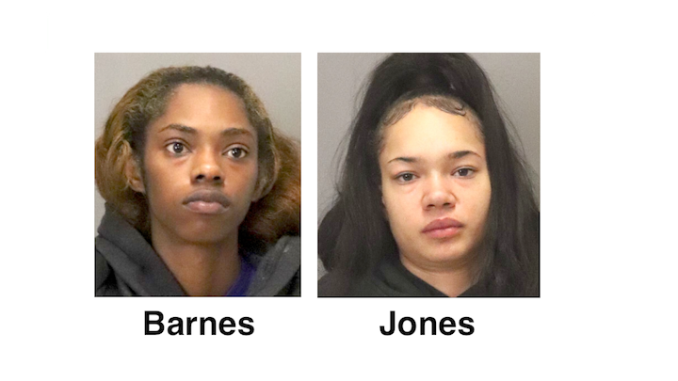 BY BRADEN CARTWRIGHT
Daily Post Staff Writer
Two women who were arrested from a mob that tried to burglarize The RealReal in downtown Palo Alto were released from jail the night after the attempted burglary, police said.
Keyonni Marie Jones, 20, of Richmond, and Imani Kevyonna Barnes, 21, of Vallejo made their $20,000 bail on Nov. 22, Lt. Con Maloney said yesterday.
Inmates pay about 10% of their bail — $2,000 in this case — to a bailbond company, and they agree to show up in court. The suspects' arraignment is scheduled for Jan. 24.
The Santa Clara County District Attorney's office is still reviewing the case and hasn't filed any charges, a spokeswoman said yesterday.
Jones and Barnes were pulled over and arrested in Menlo Park on Nov. 21. That night around 11:15 p.m., a group of between 30 and 40 people tried to shatter the glass door to The RealReal, a designer store at 379 University Ave.
The mob couldn't break through the glass before police arrived, and about 20 cars sped off in all directions, many without headlights or license plates, police said.
Jones and Barnes were stopped in a car without a license plate. With them, they had a hammer and $15,000 in merchandise stolen from The RealReal in Larkspur, which was ransacked two hours earlier, police said.
The suspects were arrested for attempted commercial burglary and conspiracy, both felonies, police said.
Bail was set following the Santa Clara County's criminal bail schedule, which the court writes each year.
The attempted burglary was part of a wave of organized retail thefts in cities across the Bay Area.
Just three days earlier, two people broke into De Novo Fine Contemporary Jewelry at 250 University Ave. and stole more than $50,000 worth of silver and gold jewelry from the display cases, police said.
The burglars sped off in a mini van, and police couldn't glean a suspect description from the surveillance video.