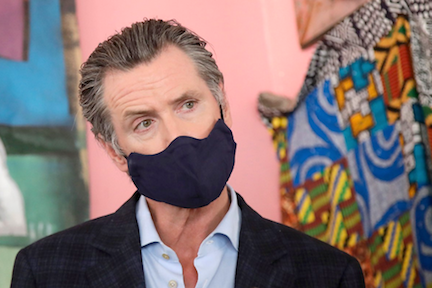 Health officials in the Bay Area today urged residents to wear masks indoors — even if they're fully vaccinated — but are not requiring them.
They say that while the vaccine is effective, they want to protect unvaccinated people from Covid and its Delta variant.
As of today, California's rate of new cases per 100,000 residents sits at 5.4.
The officials from county health departments, including those in Santa Clara and San Mateo counties, said they were making the mask recommendation "out of an abundance of caution" but have yet to issue a new masking mandate for shared indoor spaces like grocery and retail stores.
Employees are encouraged to continue following the masking guidelines set by the Cal/OSHA and their employers. They are also encouraged to wear a mask indoors when their employers has not verified the vaccination status of their co-workers.
The recommendation comes on the heels of Los Angeles County issuing a new mask mandate for indoor spaces this week amid an increase in Covid-19 cases, almost exclusively among the unvaccinated, and the proliferation of the more-transmissible delta variant.
"The Delta variant is spreading quickly, and everyone should take action to protect themselves and others against this potentially deadly virus," Alameda County Health Officer Dr. Nicholas Moss said in a statement.
While the Bay Area is one of the most vaccinated regions in the state and country, local health officials had recognized the potential for renewed mask requirements in recent weeks as the Delta variant became more of a threat, particularly for unvaccinated people.
"The Bay Area is very, very diverse and there's hot spots, within the Bay Area, of unvaccinated populations," Marin County Deputy Health Officer Dr. Lisa Santora said earlier this month. "So we would expect to see, especially in more rural areas (and) consistent with other rural areas across the nation, that you'll see increased rates of cases."
The indoor masking recommendation is intended to help protect unvaccinated residents, who are orders of magnitude more likely right now to contract the virus and be hospitalized with serious illness, the county health officials said in a joint statement.
Today, CDC director Dr. Rochelle Walensky went as far as to say the virus "is becoming a pandemic of the unvaccinated."
State officials have also been hesitant, for now, to re-issue mask and social distancing requirements statewide, instead deferring to local health agencies to do what they feel suits their constituents. — Bay City News