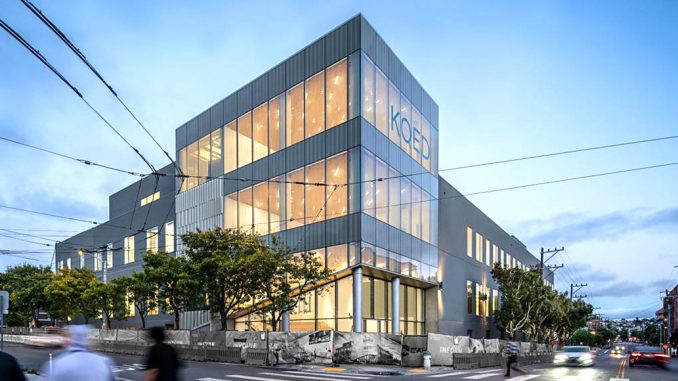 By the Daily Post staff
Public television and radio broadcaster KQED is inviting the public to an open house and block party on Sept. 25 to celebrate the grand opening of its newly renovated headquarters at 2601 Mariposa St. in San Francisco.
The event from 11 a.m. to 6 p.m. will include live programs and performances featuring notable guests and personalities from KQED, NPR, PBS and PBS Kids, plus workshops, media-making activities and family activities.
A block party on York Street between Mariposa and 18th streets will include live music produced by Noise Pop, plus family-friendly crafting, food stands, neighborhood merchants and pop-up performing arts.
The $94 million redesigned building, which is nearing completion, aims to be more inviting to the public with a glass facade, and there are more rooms for public events, media-making and community building, according to a KQED news release.
The lobby features wood-stepped seating, a video wall, community art and a timeline installation that highlights KQED and public media's content, history and mission.
The building, which KQED bought and moved into in 1991, will feature technologically upgraded production and studio spaces that have been designed to be light-filled and have "visual transparency."
238-seat event center
There is a new 238-seat multipurpose event center called The Commons, where KQED Live will be filmed. KQED Live is a new events program featuring reporters and personalities from KQED, NPR, PBS and a host of community partners.
The center will host 60 to 80 events a year featuring "thoughtful dialogue, performances, screenings, food experiences, live storytelling and behind-the-scenes productions of radio and podcast shows onstage."
"KQED will redefine public media for the Bay Area, making it more diverse, participatory and community powered," said Michael Isip, KQED president and CEO. "The new headquarters will enable our staff to thrive in providing crucial programming and education services, and will expand possibilities for our community to come together to find common ground."
A place to make podcasts
KQED is also collaborating with award-winning audio journalism and storytelling producer PRX to launch The PRX Podcast Garage at KQED.
Podcast producers will gather in the Garage, people will learn about pod-casting through regular workshops and have the chance to make their own podcast with state-of-the-art recording and mixing equipment.
A 20-seat community meeting room will be available for community partners to reserve and collaborate. The room will also be home to a community art program featuring works from local artists and organizations. The inaugural exhibition will include art from Creativity Explored, a Mission District art program and gallery that partners with developmentally disabled artists.
Tours of building
The public will also be able to tour the newsroom, radio studios, the television studio where popular programs such as "Check, Please! Bay Area!" are filmed, master control rooms and the station's rooftop boardroom and outdoor terrace, which will also be used for events.
"We're lifting up the façade to invite the community in," said Rebecca Sharkey, principal at architect EHDD. "This new building represents the physical place of KQED engagement, a place to connect face-to-face with journalists and neighbors, to experience the breadth of KQED content, and to engage in dialogue about issues that matter most to the Bay Area."
For more information, visit kqed.org/events