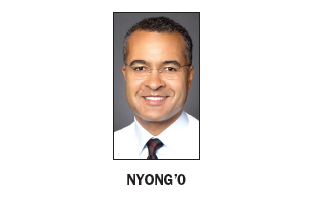 This story first appeared in this morning's Daily Post. To get all of the local news first, pick up the Post in the mornings at 1,000 Mid-Peninsula locations.
BY EMILY MIBACH
Daily Post Staff Writer
An ophthalmologist is suing Palo Alto Medical Foundation and Sutter Health claiming they have a "racially toxic workplace" where he and other black doctors had promotions clawed away from them in favor of white employees.
In one instance, Dr. Omondi Nyong'o was even asked to not take the elevators because "the white doctors would be 'uncomfortable' seeing him there," forcing Dr. Nyong'o to take the stairs, according to the lawsuit filed last month in San Francisco Superior Court.
Sutter, PAMF's parent organization, denies that Dr. Nyong'o or any other physicians or employees were subjected to discriminatory or retaliatory conduct.
"We do not tolerate discrimination of any kind — racial or otherwise —and are committed to fostering a diverse and inclusive workforce, and a work environment where all of our physicians, nurses and staff are treated fairly, with dignity and respect, and provided the opportunity to reach their full potential," said a Sutter Health statement sent by Media Coordinator Emma Dugas.
'Bad attitudes'
But Nyong'o alleges that in his 13 years working at PAMF, he was told by other black doctors to keep his head down because it would attract trouble with the largely white management at Sutter.
As an example, Nyong'o says that in 2015 he was made the ophthalmology and optometry department chair and in 2017 he was promoted again to medical director of Palo Alto Foundation Medical Group's surgical specialties. As part of his 2017 promotion, he was instructed by two higher-ups, who are both white women, to implement a plan the two women had come up with to deal with physicians with "bad attitudes," according to the lawsuit.
But when the plan was met with poor reception from the medical group's board of directors, it was Nyong'o who was punished and demoted not just back to his 2015 position, but back to being a regular clinician without any leadership titles, the lawsuit says.
After this occurred, Nyong'o was not afforded the ability to pick up open shifts at the clinic, and at that point, was told not to take the elevators as it would make the white doctors "uncomfortable to see him," the lawsuit alleges.
Nyong'o was additionally left out of department meetings by doctors who told him they wanted to talk about him "behind his back."
Told to get counseling
When Nyong'o tried to tell higher-ups about the hostile work environment, one person suggested he seek counseling, the lawsuit states.
Another issue occurred in January 2020, after Nyong'o returned from winter vacation, and after he had again asked for help from HR related to the hostile environment, the lawsuit states. Nyong'o found that his equipment had been removed from the room he had been using for four years, the lawsuit says, meaning he had been kicked out of his workspace.
Nyong'o received a new workspace three weeks later, but only after he sent several emails and made several calls about his workspace being dismantled.
A couple of months later, in March 2020, Nyong'o was placed on a performance improvement plan which he says cast him as "an angry black man" and described his complaints as "intimidating, aggressive and not collaborative," according to the lawsuit.
"In short, Sutter discriminated against him as a black doctor, racially stereotyped his reaction to his mistreatment and then punished him for having the temerity to request racial fairness at Sutter," the lawsuit states.
The improvement plan barred Dr. Nyong'o from seeking any career advancement, despite others at the clinic encouraging him to apply for an open leadership position.
Public image different from reality, suit claims
This all led up to George Floyd's murder and the protests that followed. Nyong'o points out that while Sutter was releasing statements to the public in support of racial justice, it was ignoring calls by Nyong'o and other black doctors at Sutter who were asking to be treated fairly by their peers.