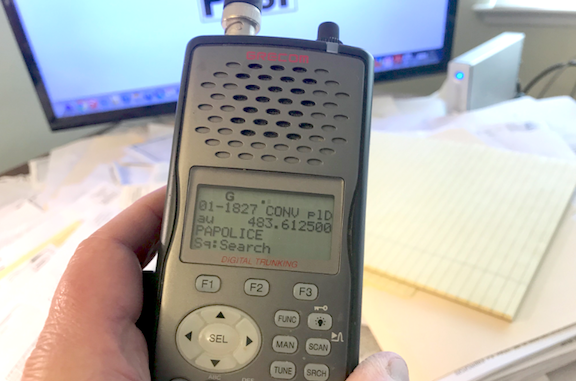 BY KYLE MARTIN
Daily Post Staff Writer
Police Chief Robert Jonsen, who decided to encrypt Palo Alto's police radios in January without any advance notice, said in a memo to City Council that he is willing to pursue alternatives that would allow the public to hear some police radio transmissions, though he can't think of anything that would work.
On April 5, council will consider a range of police issues including the use of canines and encryption of radio frequencies.
Jonsen said that he switched the radios to encryption because of a memo from the California Department of Justice asking police departments to keep certain types of information confidential.
Jonsen told council the DOJ memo gives departments two alternatives — full encryption or a continuation of public broadcasts with confidential information transmitted in a different manner.
After Palo Alto encrypted its radios, Mountain View and Los Altos police followed suit.
Jonsen wrote that he is not sure what exactly the alternatives to full encryption might be.
"Of the other agencies in the county already using encrypted radio channels, none considered alternative options due to the numerous operational and tactical challenges they present," Jonsen wrote. "There is no local model using alternative options that staff can readily replicate."
But Jonsen wrote that council can pursue state legislation to eliminate encryption.
Jonsen's position appeared to be less rigid than it was in January when he wrote on a Medium blog post that there were no alternatives to full encryption the department was interested in pursuing.
He said other cities in Santa Clara County have switched to encryption. Two exceptions are Santa Clara and Milpitas, however.
Jonsen encrypted Palo Alto police radio transmissions with less than a day's notice to the public — something Mayor Tom DuBois told the Post was a mistake. There were no public hearings prior to the move.
Vice Mayor Pat Burt told the Post in January he wanted to see the encryption come to public hearing, and said that he, DuBois, City Manager Ed Shikada and Jonsen all agreed in a private meeting that police "under-appreciated how this change would be reviewed" by the public when police implemented the encryption without public input.
And LaDoris Cordell, a former judge, San Jose police auditor and former Palo Alto councilwoman, told the Post in January the encryption is "immoral."
"It is clear that there is no state or local law that requires law enforcement radio transmissions to be encrypted," Cordell said via email. "Unless there is a compelling reason for the encryption, the policy should be abandoned immediately. If not, any trust that the department might have established with the public will quickly disappear."