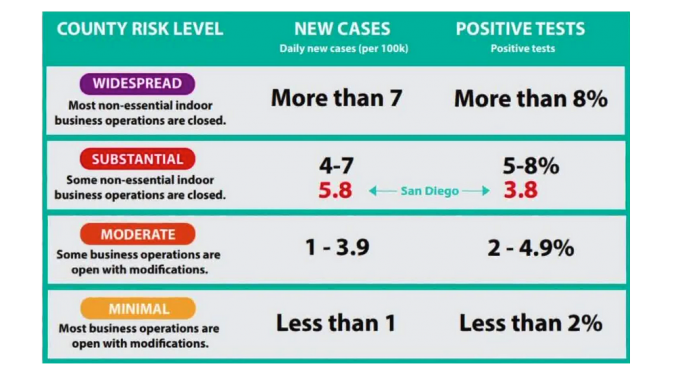 If Santa Clara County enters the lower-risk orange tier for reopening, all businesses, including restaurants and churches, can resume indoor gatherings at 25% capacity, health officials announced yesterday.
The aboutface comes two weeks after restaurant owners and ministers gave the county supervisors an earful over the restrictions that have been in place since mid-March.
"The soonest the state may allow us to move into the orange tier is Oct. 13, meaning that this new order will take effect no earlier than Wednesday, Oct. 14," County Counsel James Williams said. "That is of course contingent on continued stability and continued progress on the state's criteria here in Santa Clara County. The trends in the last two weeks have been good."
Social distancing and masks will still be required, Williams said, and businesses will have to submit revised social-distancing protocols that reflect the revised order. Indoor gatherings must not exceed 100 people.
However, county leaders advised people to continue taking precautions to prevent the spread of COVID-19.
"So today as we take these next steps, I want to make a couple of points very clear," said Supervisor Cindy Chavez. "These announcements really require, that as a community, that we take all of the precautions that Dr. (Sara) Cody and departments of health have asked us to: Wash our hands frequently, to socially distance and wear our masks."
Despite edging closer to a lower-risk reopening tier, Chavez said the county could easily slip back into the higher-risk red and purple tiers.
Supervisor Dave Cortese said 20 people died of COVID-19 last week, a sign the pandemic is still serious.
"If 20 people died in a year in this county from anything in any prior year, all of you would be here asking us what's going on," Cortese said. "Twenty people died in a week."
Over the weekend, county health officials lifted restrictions on licensed estheticians who were previously prohibited from operating due to the coronavirus. Facial services were the last among the personal care services to reopen in Santa Clara County, trailing behind barbers, tattoo shops, hair and nail salons.
Although data shows Santa Clara County has had the highest total of COVID-19 cases in the Bay Area since the start of the pandemic, its case rate is at 4.7 cases per 100,000 people.
Santa Clara County's testing positivity rate already is at 2.4%, which is within the orange tier, but the case rate has to decrease to 1-3.9 cases per 100,000 people for the county to move out of the red tier.
Restaurant owners said the revised health order would help them as the weather turns colder.
"Having 25% indoors is something we'd like to have, although we'd have to move our tables further apart," said Vicky Nguyn of the Nest Asian Bistro. "We're doing fine with the outside patio for now and prefer it that way. But with winter coming, people would prefer indoors.
Right now with COVID, we're happy just having the outdoor patio."
Julia McCray-Goldsmith, priest in charge of Trinity Cathedral in downtown San Jose, said she plans to proceed with caution despite the relaxed rules.
"As a priest in charge of a community, I don't want to put my people at risk. It's a frightening time with a lot of unknowns because it's a novel virus. I'd hate the thought that church is the place they go to get sick," she said. "I'm personally inclined to err on the side of caution even though there is some sadness and grief in that for me and my community."
Pastor Greg Wendschlag of Abundant Life in Cupertino called for the county to allow gatherings at 25% capacity and said churchgoers would abide by social distancing and wear masks when indoors.
"We feel the shutdown mandates from the state and county of Santa Clara are very inconsistent," Wendschlag said. "The county has been much more stringent than the state regarding worship gatherings even though the (COVID-19) numbers are very low. We recognize large stores are welcoming dozens and even hundreds of people inside their facilities, yet the church cannot gather safely?"
Wendschlag said if the eased restrictions go into place, he would hold multiple services per day with people required to RSVP to limit the amount of people congregating. And, he said he would have people sign in beforehand in order to assist with contact tracing if someone tests positive for the virus. — Bay City News