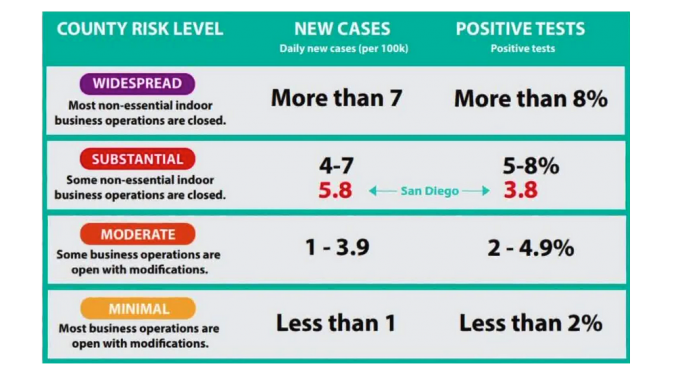 Santa Clara County has moved out of the state's highest tier of coronavirus restrictions, allowing businesses such as gyms to reopen immediately — and schools are on their way to reopening in two weeks, Gov. Gavin Newsom said Tuesday.
The county moved from the state's most restrictive tier, which replaced the coronavirus monitoring list, to the second-most restrictive tier because the county has fewer than seven new cases per 100,000 residents and a test positivity rate of less than 8%.
The county will now be allowed to resume indoor operations for businesses such as gyms, shopping malls, museums, zoos and aquariums at limited capacities.
In addition, K-12 schools will be allowed to resume indoor classes once the county has been in Tier 2 for at least 14 days.
"This movement to (Tier 2) is a reflection of the fact that here in our county, we are doing a bit better relative to many other parts of the state in combating" the coronavirus, Santa Clara County Counsel James Williams said.
Santa Clara and Santa Cruz were two of the five counties that Newsom announced were moving from the most restrictive reopening tier, Tier 1, to Tier 2. Tier 1 now has 33 counties, including several in the Bay Area, while Tier 2 has 14 counties. An additional seven counties are expected to move out of Tier 1 in the next week, Newsom said.
In addition to more counties lowering their rate of the virus' spread and reopening more businesses, Newsom said, statewide indicators of the virus' spread are also continuing to trend south as they have in recent weeks.
With daily average testing statewide at nearly 114,000 over the last seven days, the state's seven-day average test positivity rate is down to 3.8% while its 14-day average positivity rate is down to 4.3%.
"If those appear to be more promising numbers, it's because they are," Newsom said.
In addition to the decline in test positivity, hospitalizations and intensive care unit admissions due to the coronavirus are both down more than 20% over the previous 14 days.
Newsom said state residents should maintain caution about the virus' spread continuing to trend down following the three-day Labor Day weekend.
The state saw significant increases in coronavirus cases following the three-day weekends for Memorial Day and Independence Day as residents flocked to beaches and other public spaces while holding social gatherings with family and friends.
"Three-day holiday weekends have not been advantageous in terms of the mitigation of the spread of this virus," Newsom said.
Public health officials in Santa Cruz County suggested that another surge in cases could be imminent as a result of residents being evacuated due to the CZU Lightning Complex fires.
"Evacuations due to the CZU Lightning Complex fires resulted in many people mixing with others from outside their household," the county's Health Services Agency said in a statement. "If the case rate goes up, Santa Cruz County could return to (Tier 1) in 14 days."
Santa Clara County COVID-19 Testing Officer Dr. Marty Fenstersheib advised residents to continue getting tested for the virus, which has allowed the county to more accurately track its spread.
"As long as we can maintain our levels of testing, we will be able to adjust our case rates and stay in these less restrictive tiers," Fenstershieb said.
Newsom and public health officials in Santa Cruz and Santa Clara counties both emphasized the need for residents and business owners to continue following local and state public health guidelines to continue mitigating the virus' spread, thereby allowing more businesses to reopen.
"It is critical that the businesses and activities that reopen today follow the public health directives so that we can maintain our community's progress in bringing down COVID-19 transmission," Williams said. — Bay City News