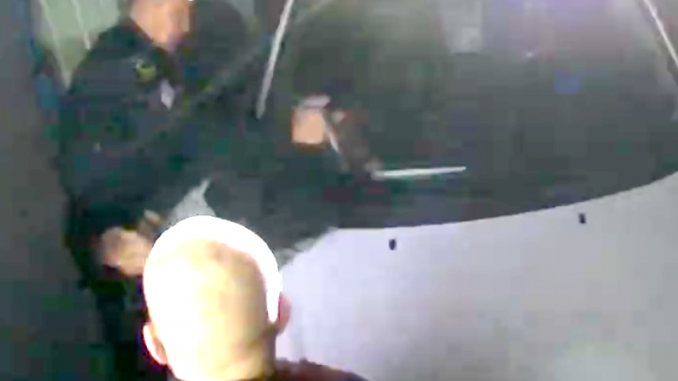 By the Daily Post staff
Santa Clara County District Attorney Jeff Rosen announced today that he is reconsidering his decision not to bring charges against retired Palo Alto police Sgt. Wayne Benitez, who was caught on video slamming the head of Buena Vista Mobile Home Park resident Gustavo Alvarez on the hood of a car.
Last week, the DA's office said it could not bring misdemeanor assault charges against Benitez because the one-year statute of limitations had expired since the incident happened on Feb. 17, 2018.
But today DA's spokesman Sean Webby said Rosen is reconsidering his legal options "after determining, in fact, there is legal authority that establishes a longer statute for this crime when charged as a misdemeanor."
"We apologize for the error. And will promptly communicate our decision to the public at the conclusion of our review," Webby said, reading from a prepared statement.
The statement also said that Alvarez's attorney, Cody Salfen, has provided the DA with evidence that wasn't previously available to prosecutors. The statement didn't identify the evidence.
But Salfen released the video of the beating to the news media on July 24, 2019. Under a law known as the "discovery rule," the statute of limitations clock begins when a prosecutor learns that a crime has been committed, and it is possible that the release of the video might have been what started the clock.
If indeed the video started the clock, then Rosen has five weeks to bring charges against Benitez.
If Benitez is charged and convicted, he could lose his pension.
On Feb. 17, 2018, police suspected Alvarez of drunken driving and went to his home in the Buena Vista Mobile Home Park to arrest him. Little did police know that Alvarez — who had a history of run-ins with Palo Alto police — had a home security camera running.
The video from the camera shows Benitez repeatedly hitting Alvarez's head on the hood and windshield of a car. At one point, Benitez says to Alvarez, "So you think you're a tough guy?"
Later, a voice believed to be that of Benitez ridicules Alvarez for being gay.
Alvarez said he lost a tooth in the attack.
After spending the night in jail, the DUI charge was dropped.
Alvarez's police record includes an arrest in 2012 for breaking into JJ&F Market and rappelling down a cable to burglarize the store. Last year he was arrested on three counts of second-degree burglary for allegedly taking $200 from the Valero gas station in front of Buena Vista.
Alvarez sued the city over the incident and obtained a $572,500 settlement. Benitez retired during the civil litigation. As a condition of the settlement, Benitez was required to sign a written apology to Alvarez.
NBC Bay Area reported on Thursday that the FBI's Civil Rights Division was investigating the Alvarez case and possibly other cases involving the Palo Alto police. The FBI doesn't confirm or deny that it is conducting an investigation. However, at Monday night's City Council meeting, when questioned about the FBI investigation, Police Chief Robert Jonsen said, "I guess it's not a secret." Then City Attorney Molly Stump interrupted and said the investigation cannot be discussed "at all."
Here's the full statement issued by the DA's office gave to the Post today:
"This office carefully reviewed Wayne Benitez's use of force against Gustavo Alvarez and was deeply disturbed by the incident."
"After months of requests, after we had closed the out our review, we received from Alvarez's attorneys' access to potentially relevant evidence."
"We are in the process of collecting and evaluating it, which will factor into whether to modify our charging decision."
"We are also reconsidering our legal options after determining, in fact, there is legal authority that establishes a longer statute for this crime when charged as a misdemeanor."
"We apologize for the error. And will promptly communicate our decision to the public at the conclusion of our review."