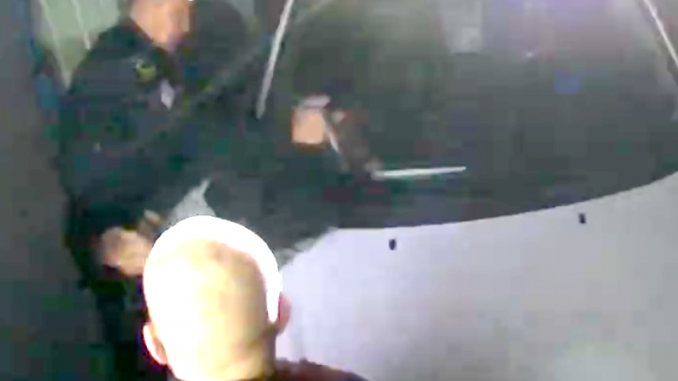 BY SARA TABIN
Daily Post Staff Writer
Santa Clara County District Attorney Jeff Rosen will not bring criminal charges against former Palo Alto Sgt. Wayne Benitez, who was caught on video slamming a resident's head into the hood of a car.
Sean Webby, a spokesman for Rosen, said Benitez violated victim Gustavo Alvarez's civil rights, but the statute of limitations for a misdemeanor case has passed. He said the evidence doesn't support a felony charge because there wasn't evidence that Alvarez was seriously physically injured in the Feb. 17, 2018 beating.
Still, the FBI's Civil Rights Division has opened an investigation into the case as well as other allegations of excessive force by Palo Alto police officers, NBC Bay Area reported Thursday, attributing its information to Alvarez's attorney, Cody Salfen. The FBI doesn't confirm or deny that it is investigating a case in most instances.
But the county district attorney doesn't believe he can successfully prosecute Benitez.
"This office has carefully reviewed Wayne Benitez's excessive use of force on Mr. Alvarez, and we are deeply disturbed by the incident," said Webby. "Mr. Alvarez alleged that he suffered various injuries as a result of Benitez's use of force, but despite our best efforts, we could find no evidence to corroborate that allegation."
The city of Palo Alto paid Alvarez $572,500 in November to settle a lawsuit over the incident. The lawsuit claimed that Alvarez suffered numerous injuries and lost a tooth because of the beating.
Benitez was required under the settlement to sign an apology saying that he "regrettably" lost his composure.
During the litigation, Benitez retired from his job that paid $217,805 ($316,527 with benefits) in 2019, according to figures from the nonprofit salary watchdog organization Transparent California.
The lawsuit was filed on April 29, 2019 and things heated up in July when Salfen, Alvarez's attorney, released a video to the media showing Benitez slamming Alvarez's head on the hood of a car outside Alvarez's home in the Buena Vista Mobile Home Park. Just before slamming his head, Benitez is heard saying, "So you think you're a tough guy?"
The video also includes a voice, believed to be that of Benitez, mocking Alvarez because he's gay.
The video was apparently recorded by Alvarez's home security camera.
"Wayne Benitez violated Mr. Alvarez's civil rights, and for that, Mr. Alvarez was justly compensated in a separate lawsuit and Benitez deservedly lost his job," said Webby. "By those measures, justice has been served."
Police say they went to Alvarez's home on Feb. 17, 2018, because an officer thought Alvarez had been driving drunk. In the video, officers tell Alvarez they will break down his door if he doesn't come out of his house.
After Alvarez was arrested and booked into jail, the DUI charges were dropped and Alvarez was released.
If Benitez had been charged, his pension would be in jeopardy. Government employees found guilty of felonies committed while on duty lose their pensions under the California Public Employees' Pension Reform Act of 2013.