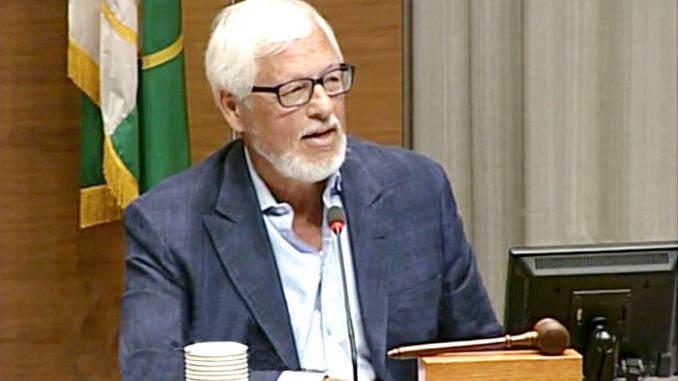 Ed Lauing, current Planning and Transportation Commissioner and three-time chair of the Parks and Recreation Commission, today (June 10) announced his candidacy for Palo Alto City Council.
He's now the second planning commissioner to jump into the race. Commission chair Cari Templeton announced yesterday. And he's the fourth candidate to enter the race for four of the seven seats on council. The other two announced candidates are incumbent Lydia Kou and attorney Rebecca Eisenberg.
Lauing is the first challenger to say he has an endorsement from a current council member. He's supported by Eric Filseth, who is part of council's slow-growth faction.
"Ed Lauing is exactly the kind of person we want on council," Filseth said in a statement released by Lauing. "He's uncommonly smart, sensible and well-organized, with a deep understanding of our community, and a track record of competence and good judgment. Ed did outstanding work on the Parks and Recreation Commission, and has been an anchor of common sense on the Planning Commission. Our city will run better with Ed on our Council."
Lauing said he believes that council's progress on critical issues has been insufficient — too slow, and too passive. He says housing – especially affordable housing – is not being built at an acceptable pace. To maintain local control, instead of Sacramento control, that has to change.
On parking, he adds, "Why have we waited years for the installation of digital direction signs downtown to reduce congestion by pointing vehicles to garages with space? That issue first came to the planning commission three years ago."
While chair of the Planning Commission in 2018 he advanced the Housing Incentive Program to accelerate the transition from commercial space to residential mixed-use housing. He also championed the 59-unit Wilton Court project at 3703-3709 El Camino Real to build 100% below market rate housing — the city's only affordable housing development in five years.
He said his seven-year track record on the parks and rec commission includes key roles in developing the new, smaller Baylands Golf Links with massive reductions in water use, restoration of wildlife habitat, and the creation of a 10.5-acre reserve for future natural or recreational use. Arguing against an hoc process to select future parks projects and community services to invest in, he also led the creation of a community-driven Parks Master Plan to identify and plan for future priority uses as well as their timelines and funding.
Before his work on city commissions, Lauing was on the board of the Urban Ministry and its successor InnVision, a nonprofit that helps the homeless. He's also been an adult leader in PA Little League and president of PA Babe Ruth, and he's vice president and a director at Congregation Beth Am.
Ed, who lives in Professorville, has three children who attended Palo Alto public schools. He's managing partner of Equity Search Partners.
He has a bachelor's degree from DePauw University, a master's degree from Vanderbilt, and an MBA from the University of Minnesota.