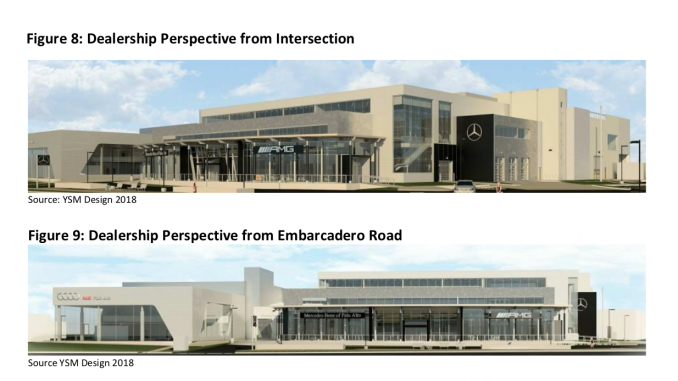 BY ALLISON LEVITSKY
Daily Post Staff Writer
A 50-foot-tall car dealership proposed to replace what used to be Ming's Restaurant on Embarcadero Road barely scraped past the Palo Alto Planning and Transportation Commission last night (March 27), with one commissioner deriding the development as "massively oversized."
"It looks like a prison or something," Commissioner Doria Summa said. "I don't think this will contribute in a positive way to our Baylands."
Still, the commission voted 4-3 to recommend that City Council approve it.
Summa and commissioners Ed Lauing and Cari Templeton voted against it, while commissioners William Riggs, Michael Alcheck, Asher Waldfogel and Giselle Roohparvar voted for it.
The dealership would be part of a chain owned by Holman Automotive Group based in Maple Shade, N.J.
The combination Mercedes-Benz and Audi dealership at 1700 and 1730 Embarcadero Road would occupy a single, two-story building with 84,900 square feet, according to a report from city Planning Director Jonathan Lait. That doesn't count the several levels of automated vehicle stacking in the showroom, allowing the dealership's cars to be housed indoors, on shelves that stack on top of each other.
It would be the first time such a system is used at a car dealership anywhere, though similar systems are used in residential parking garages, architect Lyle Hutson said.
Much of the building is proposed to stand between 36 and 43 feet, with the stair and elevator towers being between 48 and 50 feet.
Alcheck said that storing the cars inside would likely lead to water savings, since the dealerships won't have to pressure-wash them to keep them clean. And he said the development would provide a needed service to owners of Mercedes and would reinvest money in an "unfortunate, empty lot."
Templeton urged council to look at a way to build a bike path without cutting down mature trees, which is currently what Audi and Mercedes are proposing.
"One of the side effects of the scale has been that we can't have both the bike path and the trees," Templeton said. "That seems very hard for me to believe that we can't have both of those by scaling down the building very slightly."
If the trees are cut down, Templeton said council should ensure that the property owner provides nesting facilities for birds that use them until the replacement trees are mature enough for birds to nest. Lauing said he didn't like the idea of changing the property's zoning, and said the project would cause traffic jams at Embarcadero and E. Bayshore roads, one of the most congested intersections in the city.